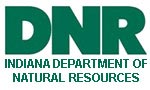 Children will learn about life on the Indiana frontier at Persistent Pioneers Day Camp, June 19-21, at Ouabache State Park.
The day camp is open to children ages 7-11, and runs from 9:30 a.m.-3 p.m.
Activities include pioneer games and songs, canoeing, a visit with a pioneer granny doctor, candle dipping and weaving. A certified shooting sports instructor will teach participants how to shoot a bow. On the last day, a Dutch oven lunch will be prepared.
The camp's activities are guided by interpretive naturalists trained to provide a safe and fun learning environment. Children need to bring a sack lunch with drink each day. A snack will be provided.
The camp costs $50. Fees will be adjusted for families with multiple children attending. Families can also ask about single- or two-day registrations.
Day camp participants are only required to pay the $5-per-in-state-vehicle entrance fee once. Park admission will be allowed on the remaining days with a paid receipt.
Guardians must fill out health and media participation forms for their children.
To register, call Upper Wabash Interpretive Services at (260) 468-2127.
Ouabache State Park is at 4930 E. St. Rd. 201, Bluffton, 46714.
Logo courtesy of Indiana Department of Natural Resources