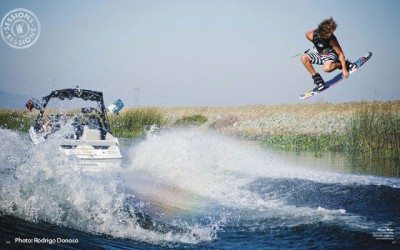 Body Glove International signed Trever Maur and Josh Twelker, two California natives, to their wake team. Both athletes are signed for wetsuits and PFD's; Trever is also signed on for apparel.
Trever Maur makes wakeboarding look easy with his effortless style and remarkable spinning ability. He keeps busy with video projects that he films and edits himself, operating on both sides of the lens. "I've always liked the Body Glove brand, and they have a good presence where I grew up on the California Delta," Trever said. "To be a part of this team now is really cool. I love the suits and the apparel is on point. I've also looked up to their riders for a while. I can't wait to ride with the boys some more and push some killer videos and photos doing what we love. Much thanks to Body Glove for welcoming Josh and I into the family." Trever just wrapped a 2013 Hyperlite product shoot and plans on shooting a video of himself and Josh Twelker in the near future. Then he is on his way down to Orlando to meet up with Rusty Malinoski and the rest of the BG wake team to capture even more footage.
At 18 years old, Josh Twelker is a staple on the Junior Pro Mens Tour and also enjoys freeriding. He was named Alliance Wakeboard's "Rookie of the Year" in 2011 and is one of the most stylish riders out there. "I'm psyched to be competing at all eight stops on the Junior Mens Pro tour this year, but I also want to continue to push the style elements of my riding.  To me, that's what keeps wakeboarding so fun," Josh said. "Being on the Body Glove team is awesome because I get to wear the best suits and vests out there. It's an honor to be with one of the sickest teams in wakeboarding."
Kevin Michael "Kevco", Body Glove's Wake Program Manager, has been impressed with Trever and Josh for years and thought they would be a natural fit with the always entertaining team of BG wake riders. "Trever and Josh have fun and are known for their unique style. Josh is a threat on the Junior Pro Mens circuit and Trever is a new age, multi-talented rider with an eye for quality media.They are both good dudes who shred in a region where wakeboarding is hugely popular," said Kevco.
Image of Trever Maur by Rodrigo Donoso. Images courtesy of Body Glove