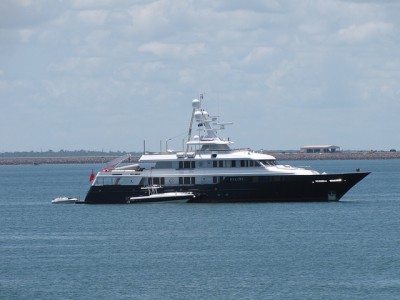 Update added 6-22-2012: The Coast Guard now believes that this incident and another in May may be linked. Click here for that story.
On June 11 at around 4:20pm, the Coast Guard received an emergency radio from the "Captain" of a potentially fictitious boat named "Blind Date" reporting that the craft had suffered an explosion. Shortly afterwards the caller used the same radio transmission and reported that boat was 17 nautical miles east of Sandy Hook, New Jersey and sank with 21 people aboard, several of whom were injured. The caller also claimed that all aboard had made to life rafts.
The Coast Guard, along with local police and fire departments, launched a rescue effort.
"When we arrived on scene, helicopters looking, they would have seen life rafts and they would have seen smoke," said Deputy Commander of Coast Guard Sector New York Captain Gregory Hitchen.
After more than five hours the search was called off. According to officials the total cost for the rescue effort exceeds $318,000. The cost includes the cost of using four helicopters, two rescue boats, and a host of rescue workers from the Coast Guard.
Costs for the rescue boats and helicopters dispatched by various New York and New Jersey agencies are not included in the $318,000 and would easily push the total number over $400,000.
Recent convictions for hoax calls to the Coast Guard have resulted in sentences of up to two years in prison and nearly $200,000 in restitution.
A $3,000 reward is being offered for information leading to prosecution of the person responsible.
Embedded below is one of the original reports following the hoax call.
Image courtesy Ken Hodge (kenhidge13 on flicker), video from ABC News