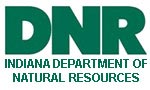 Play a friendly game of poker from your canoe at Chain O'Lakes State Park on June 23 during the annual Poker Paddle.
Participants will paddle the lakes and channels of the park, collecting poker cards at various stops. Prizes will be awarded to those with the top three hands and the lowest hand.
The Poker Paddle runs from 9 a.m.-noon. Registration begins at Sand Lake Boat Rental at 8:30 a.m. Participants can bring their own canoe or kayak, or rent one of the park's.
Other than the optional boat rental, the event is free; however, the usual park entrance fee of $5 per in-state vehicle and  $7 per out-of-state vehicle applies.
For more information about the Poker Paddle, contact naturalist Leslie Nocton at (260) 636-2654 or [email protected].
Logo courtesy of Indiana Department of Natural Resources