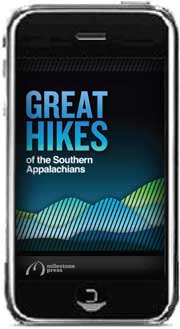 Hikers who want to travel smarter on trails in the southern mountains now have one more good reason to stash their phones in their daypacks. A mobile app called Great Hikes of the Southern Appalachians now lets adventurers carry all the maps, directions, and other hiking info they need with them on their iPhone.
The new app is the brainchild of Jim Parham, guidebook author and founder of Milestone Press, an Almond, NC publisher that has been producing outdoor adventure guidebooks since 1992. "When folks asked me if our books will be available in e-format, I just couldn't picture it," says Parham. "It didn't make sense to take an e-reader on a hike. But it does make sense to carry all that information on a phone—which now with this new app can become the perfect hiking companion. Now one device covers the tools you might be bringing with you anyway—your camera, your GPS, and your guidebook with the maps, directions,  distances, elevation gain, and trail highlights—with much less weight and bulk. This app also takes advantage of the GPS function of your phone to show your precise location on the trail—or while driving to the trailhead. That's something a printed guidebook can't do."
Working with an app developer in Asheville, NC, Parham adapted hikes from top-selling Milestone Press guidebooks covering western North Carolina, Upstate South Carolina, and north Georgia. The result is an app with hikes organized by state and region—all proven routes described in detail by expert hikers. Users can also choose a hike by category—for example, a day hike, an overnight, or a waterfall hike—or choose from hikes closest to their current location, whether they are at home or on vacation in the mountains.
Great Hikes of the Southern Appalachians is a free app with an in-app purchase option. Users get a "catalog" of hikes with basic information—trailhead location, distance, elevation gain, a photo, and hike synopsis—to help them choose which hike they want to buy; each individual hike is priced at $.99. Once a hike is purchased and downloaded, the app functions with no data plan or phone service required.
For more information about Great Hikes of the Southern Appalachians, visit Apple's App Store or www.milestonepress.com (for a link to the app itself).
Image courtesy of Milestone Press