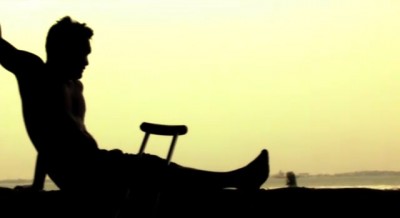 Born missing part of his left leg in a poor, rural seaside town in the Philippines, there was not much of a positive outlook for Ronie "Poks" Esquivel's life. His life was very harsh, but he found one thing he enjoyed: surfing.
"A few foreigners came here to surf, and it was the coolest thing I had ever seen," Esquivel narrates to SurfersVillage.com. "I was 13 years old and my friend Ian Saguan taught me how to surf. We had no money, so first, we rode whatever bits of plywood we could find."
He became skilled at the sport, but after a few failed deals with the StokedInc-Billabong surf team, he took to drinking and living the beach bum life. Then an Australian surfer, Paul Stranner, whom Poks had met before, paid his entry fee in an annual surf competition and the rest is history.
Watch the Philippines' one-legged wonder in action below.
httpv://youtu.be/JYAtnAYfZLc
Featured image screenshot from kuzbaxkarinderya on youtube