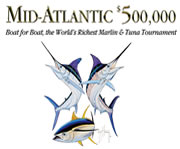 What do you call a billfish tournament with a 95% release rate that led the pack in the use of circle hooks even before they were mandated and is also well known for its big fish and down-to-the-wire finishes, huge purses, big-top tents and a reputation for aggressively promoting billfish conservation? We call it the Mid-Atlantic $500,000 though many often refer to it as sportfishing's "Main Event" on the tournament schedule each summer. Scheduled right in the heart of the billfish season, this event has seen incredible numbers of white marlin and blue marlin caught in recent years. In fact, dating back to 2006, the Mid-Atlantic $500,000 has seen 2781 white marlin and blue marlin caught! Those 2781 billfish were caught by a total of 867 boats which each fished three days during the tournaments throughout that time period for a total of 2601 boat days of fishing which translates to an incredible 1.06 billfish per-boat-per-day during the tournament over those six years! And, nearly 95% of the billfish caught during that same timeframe were released while also awarding over $11 million in prize money!
What's in store for this year? Well if the past few years are any barometer we could be on the eve of another record-setting event! Whether you believe the white marlin bite has improved in recent years due to water temperature, large quantities of forage, circle hooks, increased billfish conservation awareness or a combination of each, the late summer bite along the mid-Atlantic canyons has been literally off the charts for several years now. Double-digit days, once only found in locales many anglers dreamed of visiting, are now common occurrences right here at home!
The Mid-Atlantic $500,000 has always drawn the best boats, crews and anglers each year and August 19-24 will find them once again visiting Canyon Club Resort Marina in Cape May, New Jersey and Sunset Marina in Ocean City, Maryland to battle for a portion of the cash purse that's once again expected to top the $1.5 million mark! Participants may fish three out of five days, Monday through Friday of tournament week and all boats are required to fish within 125 miles of the Cape May Sea Buoy whether they sail from Cape May or Ocean City. Once again full weigh-in of all species including white marlin, blue marlin, tuna, dolphin and wahoo will be provided at Canyon Club for boats sailing from Cape May and Sunset Marina for those sailing from Ocean City.
With over $1.5 million in cash up for grabs, it easy to understand why crews are all business during the day while "on the rip." At night however, the Mid-Atlantic $500,000 rolls out the red carpet under the host marina tents where participants enjoy a cold beverage and buffet dinner with live music. The tournament is also known for its family-oriented atmosphere and many crews traditionally attend the event with their spouse and children who are always most welcome.
The tournament's sponsor list reads like a who's who in the world of big game fishing and over the years many have used the Mid-Atlantic $500,000 to feature special promotions and 2012 will be no different. Release Marine has been added as a Premier Exhibiting Sponsor this year and their staff will also be fishing in the tournament. MAN Engines and Components and Raymarine have each signed on as Exhibiting Sponsors and both will have their mobile showrooms on display. Seakeeper is a Supporting Sponsor and is offering a $7000 tournament entry package which includes the basic entry fee and $1000 in fuel for anyone purchasing a Seakeeper Gyro for their vessel prior to the event.
Other exciting news includes Baitmasters signing on as a Supporting Sponsor and also offering a special promotion. Buy one case of Baitmasters bait from the South Jersey Marina Ships Store during the 2012 season and complete an entry form to be entered to win four free cases of the same bait for the 2013 season. Bait must be Baitmasters brand and must be purchased from the South Jersey Ships Store. One entry form may be filled out for each case of bait purchased. Garmin, another Exhibiting Sponsor, is promoting their Garmin Grand Giveaway which rewards $1000 to top anglers who use Garmin sonar during the tournament. Additionally, Eco-Clad is hosting the Monday night dinner while Liquid Flow is the weigh-in sponsor at Sunset Marina and Supporting Sponsor Canyon Gear Lures has a special promotion planned. Pipe Dreams Marine is a new Exhibiting Sponsor while Engines Inc. is the new beer sponsor and Salt Life will sponsor the bar. Gentilini Motors has signed on as the Podium Sponsor. Finally, Penn's Tom Blecker will be under the tent providing complimentary reel service on Penn products during the tournament.
If you have not made plans to be at the 2012 Mid-Atlantic $500,000 you should act now! Contact Tournament Director Bob Glover for tournament information and Mark Allen for sponsorship information at 609-884-2400. For further details or visit the tournament's official web site at www.ma500.com.