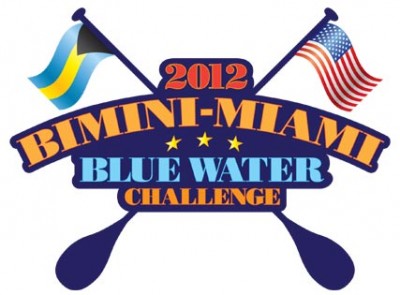 In the early hours of Saturday morning, June 9th, watermen Bill Whiddon and Thaddeus Foote will push off from the docks of the historic Big Game Club in Bimini launching the first ever attempt to stand-up paddle (SUP) across the Gulf Stream to Miami—a grueling 17-hour, 48 mile non-stop adventure.
Armed only with a board, a paddle and their wits, the paddle boarders will endure one of the earth's most powerful oceanic currents, exposure to shifting weather conditions, extreme isolation, and all risks of open ocean navigation in order to reach their destination.
The cause behind the "Bimini to Miami Blue Water Challenge" is to raise awareness for Surfrider Foundation's Rise Above Plastics campaign to reduce plastics in the ocean. The athletes, weather permitting, will depart Bimini Saturday and continuously paddle from 3:30 am to approximately 5:30 pm.
Whiddon, 58, a creative art director, and Foote, 38, an environmental educator, both grew up in Miami and are passionate about water sports and coastal conservation.
"Nothing of this scale has ever been attempted before, much less successful, so we really are pushing the limits of the sport," states Whiddon.
"This crossing is a great opportunity to highlight the impact that plastics are having on our world's ocean and how our actions, as a society, can make such a big difference," said Foote.
C4 Waterman, www.c4waterman.com, a Hawaii-based adventure sports equipment company is supporting the crossing by supplying the paddlers with the innovative X-Wing Paddle.  C4 is also dressing the paddlers from head-to-toe in their new line of performance apparel.