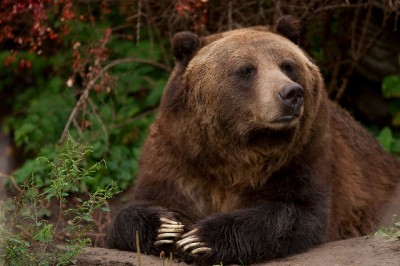 The Governor of Wyoming, Matt Mead, recently wrote a letter to Department of the Interior (DOI) Secretary Ken Salazar asking him to remove the federal protection awarded to grizzly bears under the Endangered Species Act. Mead also asked the DOI to expedite the review for federal protections for Yellowstone bear populations to under two years.
Mead quotes grizzly bear scientists and other experts when he says the species has "unquestionably recovered within the Yellowstone Ecosystem," as he wrote in the letter to the DOI.
The bear count within Yellowstone Park and in adjacent recovery areas is estimated to be at about 600 grizzlies.
Mead wants the state of Wyoming to regain full control of managing its bear population. He says bear recovery is costly in Wyoming; in two senses of the word. For one, Wyoming's investment in the recovery effort has already totaled $35 million over the past 28 years. Currently, the average annual cost to conserve grizzlies approaches $2 million. But finances are not the only costly repercussion.
Mead also cited four fatal Yellowstone bear incidents in the last two years that occurred in or near the park. He also mentioned bear-related property damage that was "disturbing and costly."
Those who want to keep the bear federally protected cite the widespread infection of whitebark pine tree disease. Whitebark pine seeds is an important food source for grizzly bear and bear advocates are concerned that if the tree is wiped out by the disease, the bear population could go with it. State and federal wildlife managers say grizzlies appear to be adapting fine by finding other food sources, as mentioned in the Yellowstone Gate.
In his letter, Gov. Mead addresses the concerns about whitebark pine trees and points out that although there was a committee directed to study how the whitebark pine relates to grizzly bear populations, it would take two years to complete the study which is "too long and the cost is too great."
Allowing the state to control its grizzly population would open the prospect of a new hunting season. Critics of delisting the animal want the bear to remain under federal protection until Yellowstone bear populations rebound to a greater degree. They expressed concern that hunting the grizzly bear might hinder grizzlies' continuing recovery.
Click here to view the letter from Gov. Mead to Sec. Salazar. (pdf)
Photo: Scott Calleja (flickr)