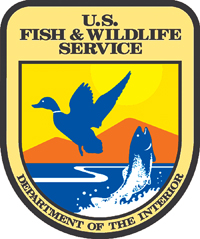 Several hundred school children "dropped their lines" in the Constitution Gardens Pond on the National Mall today, kicking off the nationwide celebration of National Fishing and Boating Week (June 2-10) and Great Outdoors Month.  Similar events will be taking place across the nation as the Service and its partners help thousands of children and their families experience the outdoors.
"The Fish and Wildlife Service has a long legacy of conserving and managing the nation's aquatic resources while also providing opportunities for Americans to enjoy them," said U.S. Fish and Wildlife Service Director Dan Ashe. "Helping children learn the joys of fishing is an important part of the Department of the Interior's mission to connect children to the great outdoors."
The 23rd Annual D.C. National Fishing and Boating Week Youth Fishing Event also celebrates Great Outdoors Month and encourages all Americans to help young people explore the outdoors and enjoy America's rich and diverse aquatic resources. It also serves to foster natural resource stewardship in America's youth and exposes them to careers in natural resources.
The youth participating in this event are mostly from Washington, D.C. area urban schools, where opportunities to participate in recreational outdoor fishing activities are limited.
For more information on places you can get out and enjoy National Fishing and Boating Week, visit www.takemefishing.org. You can also discover the many fishing and boating areas managed across the nation by the Department of the Interior by visiting www.recreation.gov.
As part of these nationwide festivities, many states do not require a fishing license during the National Fishing and Boating Week to hold fishing clinics, casting contests, derbies, fish hatchery open houses and any number of other family-oriented activities.
Sponsors for this event include the Department of the Interior University, U.S. Fish and Wildlife Service, National Park Service, Bureau of Land Management, Bureau of Reclamation, Recreational Boating and Fishing Foundation, U.S. Forest Service, U.S. Army Corps of Engineers, District of Columbia's  Department of the Environment, Catch A Special Thrill
(C.A.S.T.) Foundation for Kids, Trout Unlimited, Blacks in Government-Department of the Interior Chapter, Federal Asian Pacific American Commission, and the American Recreation Coalition.
Currently, some 40 million anglers and 70 million recreational boaters enjoy these great American traditions.  Both pastimes make significant contributions to the U.S. economy, support millions of jobs and add billions of dollars to state tax revenues through equipment purchases and tourism-related expenditures. National Fishing and Boating Week also encourages families to fish together as one of the best ways to "move outdoors" and celebrate Great Outdoors Month.
The mission of the U.S. Fish and Wildlife Service is working with others to conserve, protect and enhance fish, wildlife, plants and their habitats for the continuing benefit of the American people. We are both a leader and trusted partner in fish and wildlife conservation and management, known for our scientific excellence, stewardship of lands and natural resources, dedicated professionals and commitment to public service. For more information on our work and the people who make it happen, visit www.fws.gov.