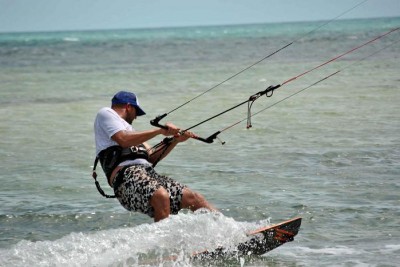 To better serve the public interest in a wider ranger of family-oriented activities on this popular Bahamas out-island destination, Bimini Water Sports and the legendary Big Game Club have jointly announced new services for both guests and visitors to the island.
Former professional kiteboarder and water sports instructor Chris Quinn and yoga instructor Summer Farrell, owners of Bimini Water Sports, today announced the launch of a new Water Sports Center located on-site at the Bimini Big Game Club in Alice Town.  Quinn, who had previously operated a similar business, said today's re-opening will provide a variety of new activities, including instruction and tours for stand-up paddleboarding, kayaking and kiteboarding as well as boat rentals and yoga classes.  Quinn said the instruction and tours for all skill levels are available on a daily basis.
"With our IKO training method, kiteboarding is easy to learn," said Quinn, who has been teaching kiteboarding, windsurfing, sailing and powerboating for more than 10 years in various locations around the world.
For more information on Bimini Water Sports, go to www.biminiwatersports.com.
According to Big Game Club General Manager Michael Weber today's Bimini is more eco- and family-friendly, broadening the scope of activities—a new sense of fun and adventure.
Founded in 1936 by Nassau entrepreneur Neville Stuart as the "Bimini Big Game Fishing Club", the Big Game Club over ensuing years garnered an international reputation.  The historic 51-room resort, which features a 75-slip marina capable of accommodating boats up to 145 feet in length, re-opened in 2010, following a $3.5 renovation funded by the club's owner, The Hankey Group of Companies.
Weber, said more families are also giving the New Bimini experience a try; especially those looking to soak up the Bahamian out-island culture and the diversity of on-the-water activities.
"While dad might be out on a backcountry bonefishing trip, mom and the kids can also be out on the water paddleboarding, kayaking or trying some kiteboarding," said Weber. "Also we're getting bookings from not only the immediate region, but have guests from throughout North America and Europe as well."
For more information on the Bimini Big Game Club, please go to www.biggameclubbimini.com.