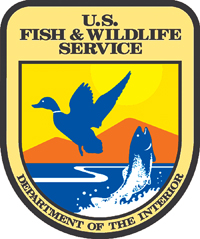 On June 4, 2012, the U.S. Fish and Wildlife Service will celebrate the start of the National Fishing and Boating Week and Great Outdoors Month with the 23rd Annual D.C. National Fishing and Boating Week Youth Fishing Event. On this day, urban school children will drop their lines in the Constitution Gardens pond for a day of fishing and natural resource education presentations. The Service leads the event in coordination with the National Park Service, and other Department of Interior bureaus, the Recreational Boating and Fishing Foundation, Catch a Special Thrill Foundation and numerous other local, state and federal agencies and nonprofit organizations.
The youth participating in this event are from areas where opportunities to fish are limited. This angling event highlights the Service's priority to help all young people, including special needs youth, to move outdoors and enjoy America's rich and diverse natural resources. During this year's event, all of the youth fishing event planning committee agencies, bureaus and organizations are highlighting their strong commitment to provide and expand outdoor recreational opportunities for special needs youth throughout the United States.
This event serves to foster natural resource stewardship in America's youth and expose them to careers in natural resources. It also celebrates Great Outdoors Month highlighting the benefits of fresh air, exercise and the many forms of outdoor recreation.
WHO: U.S. Department of Interior (Fish and Wildlife
Service, Bureau of Reclamation
Bureau of Land Management, National Park Service) U.S. Forest Service Recreational Boating & Fishing Foundation American Recreation Coalition
C.A.S.T. for Kids Foundation
WHAT: National Fishing and Boating Week Youth Event
WHEN: June 4, 2012 (Monday)
Official "VIP Speeches"/ MOU Signing / Press Conference
10:00 a.m. to 11:00a.m. (EST)
WHERE: Constitution Gardens Pond, National Mall, Washington DC.
(The event is located near the intersection of Constitution Avenue and 17th Street, NW, at the eastern end of the pond, along the northern edge of the National Mall.)
MEDIA: All credentialed news organizations are invited to attend.