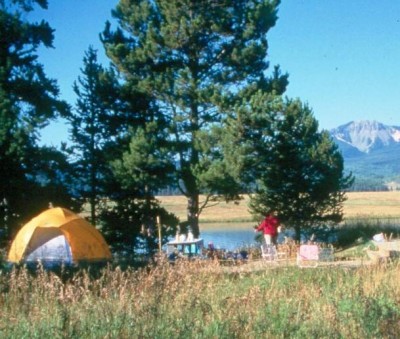 Have you ever wanted to go camping, but weren't sure how to begin? Colorado Parks and Wildlife is launching a new program, in partnership with The North Face, to introduce families to the great outdoors at Chatfield State Park and Golden Gate Canyon State Park. Officially named Let's Camp! the program covers all the fundamentals of camping, from setting up tents to smoothly taking things down in a safe and comfortable setting.
Experienced staff and volunteers will be available to answer questions and teach the basics in a relaxing and fun environment. And, there will be fun open-air activities. No prior outdoor experience is required! Loaner equipment, including tents and most cooking gear, is available for use. Participants must bring their own food, sleeping bags and personal items.
The Let's Camp! Program will take place from approximately noon on Sundays through noon on Mondays at Chatfield State Park on July 1-2 and Aug. 5-6; at Golden Gate Canyon State Park July 8-9 and August 5-6. At Chatfield State Park, the program fee is $30 per group of up to six people. The fee is $25 per group of up to six people at Golden Gate Canyon State Park. The fee includes the family's campsite and park entrance fees, plus program activities, instruction and the use of basic camping equipment.
Registrants are encouraged to register early as space is limited. For more information about the Let's Camp! Program and to reserve your spot today, visit: http://parks.state.co.us/camping/Pages/LetsCamp.aspx.
"We are excited to partner with The North Face to offer this new program to families and help connect them to nature," said Rick Cables, Colorado Parks and Wildlife Director. "State parks are a wonderful gateway to experiencing the outdoors."