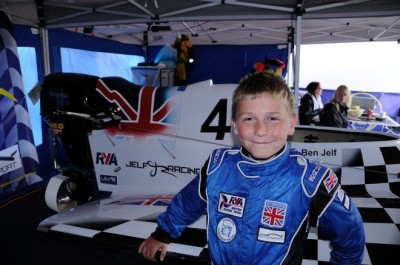 Ben, 11, has raced for 3 seasons and already boasts a trophy cabinet that any veteran racer would be very proud of.  In 2011 Ben became UIM GT15 World and European Champion, JT 250 National and Sprint Champion, S250 British Speed Record holder and GT15 World and British Speed Record holder!
Ben will race for Peters & May in 2012 and 2013 hoping to retain both his British titles, as well as travelling to Sweden and Estonia for the GT15 World and European Championships respectively. While Ben has a proven track record, 2012 will be a learning curve for his cousin and rookie driver Beth, but she has already shown that she has what it takes to be a serious future contender.
Peters & May Racing continues to work closely with power boating authorities including the UIM and the RYA to promote the growth of power boating at youth level. Dave Holley, CEO of Peters & May comments "We are committed to supporting powerboat racing from the grass roots up and are excited to be working with such a talented and motivated young driver as Ben Jelf. As Funding Partners of the UIM Youth Development Programme, we are privileged to be involved with the individuals who will drive this sport to a wider audience in the future, and there is no better example of such an individual than Ben".
Ben says "I am totally committed to powerboat racing and am determined to one day realize my dreams and make it to the very top. I am taking the opportunity Peters &May has given me very seriously and while I cannot guarantee that I will win races, I can guarantee that I will give it my 100% best effort at every event".
To follow Ben and Beth's results throughout the year, like Peters & May Racing's Facebook page at http://www.facebook.com/pages/Peters-May-Racing/113173265413344