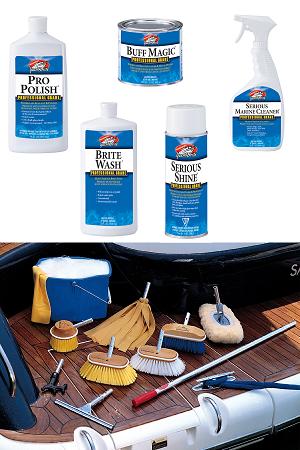 When marine cleaning products deliver high quality results, many boaters wonder if they can safely use those products in their homes or on their vehicles and RVs. Shurhold Industries' offers gear that is safe for use on more than a boat. Due to their versatility, these products end up saving users money in the long run.
Brite Wash is environmentally friendly and perfect for cleaning dirt, grease and salt. This is a great car, boat and RV soap. However, many car soaps can damage a boat and most of these harsh chemicals are not safe for run-off in the water.
To restore headlights and to get scratches out of their car, boaters can enlist their can of Buff Magic. For around the house use, it can polish stainless steel and metals, like BBQ grills and the bottoms of pots and pans.
Shurhold's Serious Shine can be used virtually anywhere, including stainless steel appliances, glass mirrors, computer screens, eyeglasses, counter tops, inside car interiors and windshields. Serious Marine Cleaner can be used on floor mats and makes a great window washing fluid. Great for waxing cars, RVs, semis or motorcycles, Pro Polish gets the job done with minimal effort.
Shurhold's One-Handle-Does-It-All System enables users to snap on a squeeqee for the windows or a broom head to sweep out the garage with more attachments available. The system is great for cars, SUVs and RVs.
With Shurhold's dynamic marine cleaning products, boaters can use the same tools to clean up around the house or in the garage. There's no need to buy specialty products when boaters already have a dock box full of products. Boaters can watch a Shurhold Clean 'n' Simple video regarding this topic at http://shurhold.com/article/clean-n-simple/can-i-use-that-boat-product-on-my-car-or-in-my-home/.