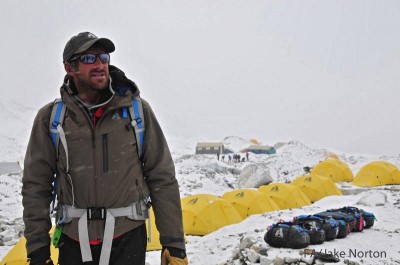 RMI Guides Dave Hahn and Melissa Arnot are descending Mt. Everest after reaching the summit on May 26th. Both climbers established new records on the climb; it was Hahn's 14th summit, breaking his own record with the most summits of Mt. Everest of any non-Sherpa. The climb also marked Arnot's 4th summit of the mountain, setting a new record with the most summits of Mt. Everest of any American woman. Arnot and Hahn are guiding for RMI Expeditions.
Arriving in Nepal at the end of March, Hahn and Arnot made the 12-day trek into Base Camp on Mt. Everest. After close to a month of climbing establishing successive camps on Everest, Arnot, Hahn and team made a summit bid on May 26, 2012, reaching the top of Mt. Everest at 9:31 a.m. local time.
Hahn is a renowned mountaineer and guide and is widely regarded as the preeminent high-altitude mountain guide who also holds the record for the most number of summits of Antarctica's Vinson Massif. Arnot is an accomplished climber and guide and a preeminent female American mountaineer. Arnot and Hahn both guide exclusively for RMI Expeditions.
photos: RMI Expeditions