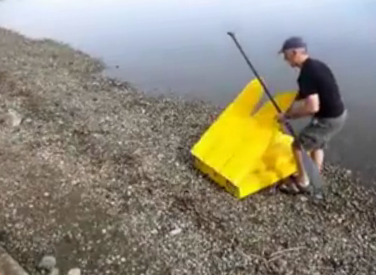 The designer of the Origami Paddler, Tim Niemer, recognized that large paddle boards, kayaks, canoes, and so on are cumbersome to transport and store because of their size. So to encourage their use without all the hassle, Niemer came up with a foldable design that can be transported easily in a car and stored inexpensively.
Typically, stand-up paddle boards (SUPs) measure in at 10 to 11 feet (3 to 3.5 meters), which means they aren't easy to attach to a standard car for transportation, especially if you have more than one SUP. And let's admit it, paddle boarding is just more fun with more people.
Niemer's Origami Paddler is only 46 inches (just less than 4 feet) in length when folded, yet it unfolds to a standard length of 11.5 feet. Keep in mind these are pre-production numbers and may change. The board stays solid when unfolded by locking hinges and patent-pending straps and it doesn't require any additional hardware to assemble.
Niemer is still in his initial stages of design and production. As of right now, a few Origami Paddlers are available as presale items so that Niemer can raise enough money needed for large-scale production. Ordered paddle boards should be delivered by June. His board's retail price is estimated at $1,200, but presale price is $1,000 with discounts if you buy more than one.
In this video, Niemer explains and demonstrates how the Origami Paddler works.
httpv://youtu.be/mNShCmPZRhM