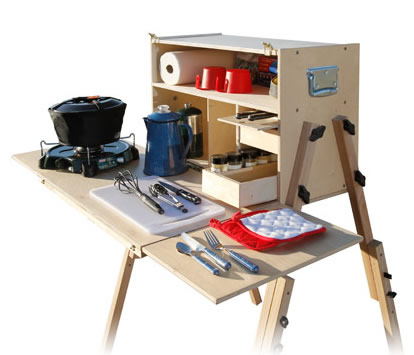 For those who believe that camping means giving up the comforts of your home but not the comfort of a delicious meal, you owe it to yourself to check out "My Camp Kitchen". It's a new product designed by an aerospace engineer who is also an avid outdoorsman.
Richard Snogren loves camping, but he doesn't want to bar himself from eating good food while in the outdoors. He found other outdoor cooking and storage products to be poorly built, flimsy, too small, or too low to the ground. When none suited his needs, he decided to build his own.
After years of experimentation and development, Snogren is finally able to offer his product commercially.
My Camp Kitchen currently comes in two main models – the Outdoorsman and the Summit Traveler, with the Outdoorsman costing $350 and the kitted out Summit Traveler (cabinet, countertop and stand) running $948.
My Camp Kitchen folds down into a portable box that can easily be carried from your car to campsite. Items like spices, canned goods, utensils, propane stoves, and so on fit inside the box when it's folded, so the entire kitchen can be wrapped up inside the box.
Watch the creator himself, Richard Snogren, demonstrating the uses of My Camp Kitchen to make Soused Shrimp, or Shrimp Scampi.
httpv://youtu.be/ynU8T21NEKs