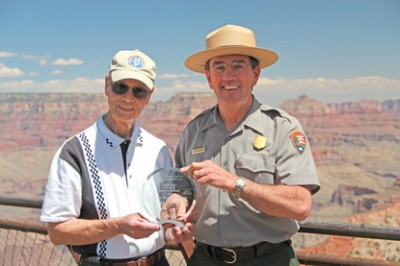 Grand Canyon National Park recently received a Clean Air Champion Award from the Arizona Clean Cities Coalitions.
The Arizona Clean Cities Coalitions are chartered by the U.S. Department of Energy as part of their Clean Cities initiative.  The Clean Cities program and Arizona's Clean Cities Coalitions work to advance energy, economic and environmental security.
Every two years, the Arizona Clean Cities Coalitions recognize organizations that have made significant contributions to the goals of clean air and energy security.   Grand Canyon National Park was recognized in the public service category for their sustainable practices and the example they set for the millions of people who visit the park each year.
The park offers a free shuttle system that serves Grand Canyon Village and most major viewpoints in the Village area.  The shuttle also runs seasonally between the park's primary visitor center and the gateway community of Tusayan, Arizona.  All of the park's shuttle buses run on compressed natural gas, helping to improve air quality.  The 5.2 million boardings in 2011 also decreased short, private vehicle trips within the park by about 1.7 million, reducing traffic congestion and fuel consumption, and improving the visitor experience.
While the shuttle is the most visible action the park has taken to improve air quality and decrease fuel consumption, other actions also played a part in their selection for the Clean Air Champion Award. Grand Canyon National Park will soon complete an extensive, multi-modal, greenway trail system; solar and wind power are being integrated at some park facilities; and parkbstaff are using bio-based hydraulic fluid in heavy equipment and B20 biodiesel to power diesel vehicles and equipment on the South Rim.
"Grand Canyon National Park is proud to be chosen for a Green Air Champion Award," said Superintendent Dave Uberuaga. "Like all national parks, we have been working to find ways to decrease our environmental footprint and to implement more sustainable practices.  To be recognized by Arizona's Clean Cities for the example we set is a real honor."
For additional information on Grand Canyon's Clean Air Champion Award, please call Public Affairs Specialist Shannan Marcak at 928-638-7958.  To learn more about the Department of Energy's Clean Cities initiative, please visit http://www1.eere.energy.gov/cleancities/; and to learn more about Arizona's Clean Cities Coalitions, visit the Valley of the Sun at http://www.afdc.energy.gov/cleancities/coalition/phoenix, and Tucson at http://www.afdc.energy.gov/cleancities/coalition/tucson.
photo: Grand Canyon National Park