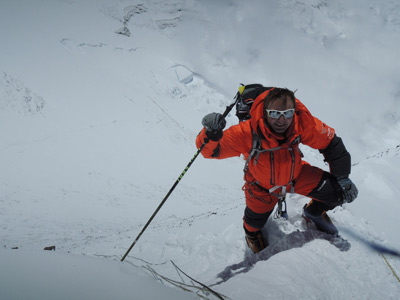 One of Europe's most famous speed climbers, Switzerland's Ueli Steck, has accomplished another notable feat. Just days before four people tragically died on Mount Everest in part to altitude sickness, Ueli Steck and his climbing partner reached the summit of the mountain without the use of supplemental oxygen.
Steck, 35, and his climbing partner Tenzing, 21, of Nepal set off on May 15 up the southeast ridge. The last message Steck left on his website before reaching the summit was:
"The weather looks great. Tenzing and I will leave base camp tomorrow morning to Camp 2, after a nice breakfast in the sun. We plan to leave on May 17, 2012 late and go straight to Camp 4 where we will have a couple hours rest before we will set off for a summit push around midnight. I hope this time I will not get too cold and reach summit on May 18, 2012 in the morning."
On May 18, they did in fact reach the summit.
This was a personal record of Steck's that he attempted to break twice before he found success. Last May, Steck attempted Everest without oxygen, but only 100 meters (328 feet) away from the summit, he had to make the difficult decision to turn around. A fear of frostbite on his numb feet prevented him from going further. Afterward, Steck said he just wanted to keep his toes, knowing that he could come back to Everest for another attempt without oxygen.
He spent a few weeks acclimatizing to the environment beforehand, but . Still, he met much greater fortune than numerous other parties who attempted a climb this year. Even with supplemental oxygen, at least four people likely died from altitude sickness or oxygen deficiency just one or two days after Steck successfully completed his climb, further strengthening the idea that his man is nothing short of a climbing machine.
That weekend after Steck's successful climb, the 2012 death toll for Everest numbered six people. Since then, that number has climbed to 10 confirmed fatalities. Deaths have been caused by falls, high altitude cerebral edema, other unknown causes and altitude sickness.
Photo: uelisteck.ch