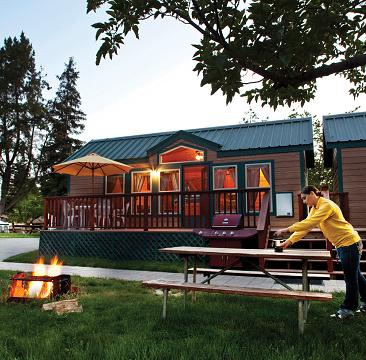 Advanced reservations for the 2012 Memorial Day Weekend holiday are running about 8 percent ahead of the same period in 2011 according to Kampgrounds of America Inc. – the world's largest system of family-oriented campgrounds.
With just three days to go before the first major summer holiday of 2012, reservations at KOA's 484 campgrounds in the United States and Canada are still rolling in at a pace well ahead of the same period last year. In fact, Kampgrounds of America is running about 5 percent ahead of 2011, year to date, in the number of short-term camper nights in the system.
"We had a strong start to the year in the first few months, and that has carried through to the start of the summer camping season," said KOA President Pat Hittmeier. "Campers are responding well to the efforts our campground owners have made to add more Deluxe Cabins to our inventory, as well as to the many enhancements they've made to their parks in recreation and other amenities."
The Memorial Day Weekend numbers nearly mirror the results of KOA's annual Come Kamp & Care With Us Weekend results on May 11-12, 2012, which finished with about 10 percent more campers than in 2011.