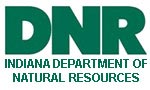 All reservable campgrounds and cabins at Indiana's state parks, reservoirs and recreation areas are booked to capacity and ready for Memorial Day weekend.
State forest campgrounds are first-come, first-served and also expect brisk business.
If you're too late to make a campsite or cabin reservation for this weekend, there are plenty of other options for day-use recreation, from hiking to horseback riding to swimming.
Also, shelters should still be available for picnicking, according to Christie Wilmoth, reservation system program manager with the DNR Division of State Parks & Reservoirs.
Shelters can be reserved and reservations must be made at least two days in advance. Shelter reservation fees vary by property and range from $25 to $75.
Otherwise, unreserved shelters are available to visitors free on a first-come, first-served basis.
"We end up filling them up by the end of the weekend," Wilmoth said. "It's mostly because people show up and snag them for their family picnics.
Visitors to all of Indiana's DNR properties will need to be aware of a new firewood rule that went into effect this year to protect trees from pests and pathogens, including emerald ash borer. Under the new rule, in-state visitors can bring firewood from home as long as the bark has been removed. Guests may also bring firewood if it is:
Kiln-dried scrap lumber.
Purchased outside the property and bears either a USDA compliance stamp or a state compliance stamp.
Purchased from the property campstore or on-site firewood vendor and has a state compliance stamp.
Additional firewood information is available at firewood.dnr.IN.gov.
Visitors should also be aware that dry weather has resulted in unseasonably low water levels at many flood-control reservoirs. Some beaches may be closed and boaters should use caution. Visitors should call ahead to the reservoir property they plan to visit to find out if its beach is open.
For those who missed out on Memorial Day weekend camping, plenty of cabins and campsites are still be available for reservation throughout the rest of the summer, including weekends. Make reservations at camp.IN.gov or call 1-866-6CAMPIN (1-866-622-6746).