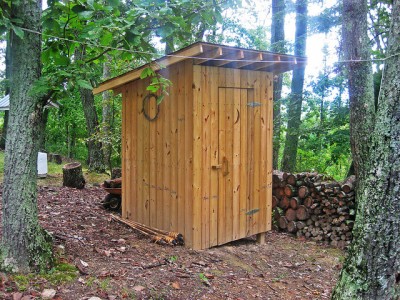 When Gordon Shurvell went to take care of business in an outhouse at a camping site in northwestern Ontario, he never expected to be dragged out of the hut and mauled by a black bear.
Shurvell, 65, and his friend Daniel Alexander, 63, both from Winnipeg, were camping on Crown land about 60 kilometers (37 miles) north of Sioux Lookout, Ontario near Dunbar Lake over the weekend.
At about 6 a.m., Shurvell went to use the outhouse, but he didn't close the door behind him. A black bear appeared and dragged Shurvell from the outhouse by his arm and shoulder. It then bit him on the back of his head and neck, and slashed at Shurvell's limbs, head and neck.
The attack lasted for about one minute before Alexander came running with a gun. He recalls that the incident just sparked an instinctual reaction in him and he shot the bear. "When in a life and death situation, you react by instinct," Alexander said to the Free Press. "You do what you have to do."
Alexander said that Shurvell was bleeding pretty badly. The man managed to stop most of the bleeding and they departed quickly to the nearest hospital in Sioux Lookout, about 37 miles away.
Shurvell received a rabies shot at the hospital and was treated for his multiple puncture wounds and slash marks to his arms and back of the head.
Police officers in the area say they have had a lot of calls about bears in the last couple weeks, but none of the animals involved were aggressive like the one that attacked Shurvell.
Photo: Grimm Pics (flickr)