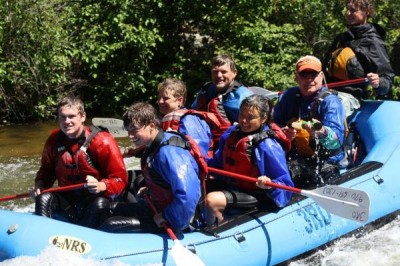 Getting up close and personal with the rivers and lakes is what Gunnison County is all about.  Not only is the area known for outstanding rafting and kayaking (ranging from Class I to IV on the Gunnison and Taylor Rivers), you'll see amazing tricks at the Gunnison Whitewater Park, experience options galore on Blue Mesa and Taylor Reservoirs and have loads of fun at the Gunnison River Festival.  Special offerings from outfitters include a dinner float trip, full-day rock climbing and rafting trip, and a rafting and lodging package.
Gunnison River Festival, June 22 – 23
For a unique blend of hardcore and lighthearted outdoor recreation for all ages, don't miss the 10th annual Gunnison River Festival on June 22 – 23.  The event kicks off this year with a new twist: the premiere of the Gunnison River Games in Legion Park on the evening of Friday, June 22.  Compete with skill or luck in these dry-land challenges that are sure to entertain from 6 – 9 p.m. with live music as the backdrop.  Also new this year is a continuous community raft float.  Arrive at Gunnison Whitewater Park on June 23 from 11 a.m. – 3 p.m., board a shuttle with friends and float the Gunnison River back to the festival.
Gunnison Whitewater Park, located at the corner of Highway 50 West and County Road 38, is the home base for the festival all day on Saturday.  River flows are lower than last year, so bring the entire family to the park; get in a demo boat, inflatable or on a stand up paddle board; and enjoy a fun-filled experience on the Gunnison River.  Beginners will have instruction and support from veteran river users.
For costs, information, and registration forms, visit www.gunnisonriverfestival.com, www.Facebook.com/gunnisonriverfestival or call (970)901-6215.  Pre-registration is going on now at the Gunnison Community Center.
Friday, June 22
Event Registration, Gunnison River Games & Live Music by Tornado Rider, 6 – 9 p.m. – Legion Park
Saturday, June 23
Curecanti Kayak & Canoe Paddle (race or tour in your lake kayak or canoe), 8 a.m. – Starts and ends at Elk Creek Marina on Blue Mesa Lake (Curecanti National Recreation Area)
Registration Booth Opens, 9 a.m. – Whitewater Park
Demos, 9 a.m. – 3 p.m., Whitewater Park
Competitive Raft Race, 10 a.m. – Rockey River Resort to Whitewater Park
Kayak Competition (Recreational and Competitive), 11 a.m. – Whitewater Park
River Fun Zone for Kids (interactive and educational activities to understand watersheds and underwater life, foam boat races and a Strider Cup bike race), beginning at 11 a.m. – Whitewater Park
Community Raft Float, 11 a.m. – 3 p.m. – Board the shuttle at Whitewater Park
Inflatable Rodeo, 12:00 p.m.  – Whitewater Park
SUP Surf Comp, 1 p.m. – Whitewater Park
Hooligan Race (competitors race in boats made from non-boat materials such as inner tubes, kegs, barrels, etc.), 2:30 p.m. – Whitewater Park
Closing ceremonies 4:00 p.m. – Whitewater Park
Rafting & Kayaking
Whitewater enthusiasts have been floating local rivers and streams in Gunnison and Crested Butte for years with the upper and lower Taylor River offering I to IV class waters from May through mid-September and the Gunnison River providing class I to III options.  Various types and lengths of trips on rafts, kayaks and Duckies are offered by two experienced area outfitters: Three Rivers Resort & Outfitting (www.3riversresort.com) and Scenic River Tours (www.scenicrivertours.com). They also offer fishing, zip lines, rock climbing, lodging and more.
Sailing
Sail Western Colorado offers sunset sails, sailing excursions, instruction and certification on Blue Mesa Lake, Colorado's largest body of water located west of Gunnison in Curecanti National Recreation Area.  Consistent southwesterly winds that begin building in the morning provide ideal sailing conditions on this picturesque mountain lake that has 96 miles of shoreline to explore and encompasses 41,972 acres.  Elk Creek Marina is the base for Sail Western Colorado trips.  Visit www.sailwesterncolorado.com or call (970) 901-5360.
Boating
Weekend Warriors Outdoors manages both marinas at Blue Mesa, offering a full line of pontoon boats, several aluminum fishing boats, and a variety of fishing gear to rent.  Make sure to take time and enjoy a meal or snacks on the deck of Pappy's at Elk Creek Marina, overlooking Blue Mesa.  Go to www.bluemesares.com or call (970) 641-0707.  Also check out the 10 campsites operated by Curecanti National Recreation by visiting www.nps.gov/cure.
From the west side of Blue Mesa, go to the Pine Creek Trail parking lot for an open-air pontoon boat ride through the amazing Black Canyon of the Gunnison.  On the Morrow Point Boat Tour, take a 1-1/2 hour journey past waterfalls, stunning spires and the dramatic cliffs accompanied by a National Park Ranger.  Tours on the 42-person pontoon run twice a day, 10 a.m. and 12:30 p.m., every day except Tuesdays from early June through Labor Day (start date is determined based on spring runoff and releases from Blue Mesa Dam).
Reservations and prepayment are required by calling (970) 641-2337, ext. 205.  Participants must be able to walk up and down a long flight of 232 stairs and take an easy, flat hike (3/4 mile each way) on a wide trail that borders the Gunnison River and leads to the boat dock.  Visit www.nps.gov/cure.
Located at an elevation of 9,300 feet, Taylor Park Reservoir is a quiet and beautiful paradise for fishing, boating and camping.  Taylor Park Marina has a fleet of 20- to 26-foot pontoons and 14- to 16-inch fishing boats with motors.  The marina also has fishing tackle, provisions, a deli and grill, and more. Go to www.taylorparkmarina.com or call (970) 641-2922.  There are cabins and camping and RV sites in Taylor Park or stay in lodging properties in the Almont area.
Adventure & Dining Packages
Dinner Float Trip
Enjoy the area's only dinner cruise, Rocky Mountain style!  Start out at Three Rivers Resort in Almont by 4 p.m. and enjoy a 10-mile scenic float trip on the Gunnison River to Garlic Mike's Restaurant for a delicious Italian dinner. The cost is $65 per person and $40 for children ages 10 and under. You will receive the float trip, vehicle shuttle and a voucher for up to $27 per adult and $10 per child (age 10 and under) for Garlic Mike's.  Anything above those amounts, including tip, is additional and payable at the restaurant.  The total time required is approximately three hours.  The trip is available seven nights a week with at least 24 hours notice and a minimum of four people.  To book, call Three Rivers Resort at (888) 761-3474.
Rock & Raft Package
Scenic River Tours is offering a Rock & Raft Package, featuring a full day of adventure that includes lunch by the river.  Participants will whitewater raft the Taylor River until noon, stop for lunch, and raft some more before stopping to rock climb in a new area developed by Scenic River Tours.  Wrap up the day with more time on the water.  For more information and the cost, call (970) 641-3131 or visit www.scenicrivertours.com.
Lodging & Rafting Deal
Save on lodging and rafting when staying two nights or more at Three Rivers Resort in Almont from May 1 – June 10 and Aug. 12 – Sept. 30.  For only $100 per person (total, not per night), receive two nights' lodging in a lodge room or small, one-room cabin and one Upper Taylor whitewater raft trip each.  Price is based on two-person occupancy.  This same offer is available for a family of four at $100 per person, with the only difference is the package includes a standard mountain chalet, featuring one bedroom, a sleeping loft, living room with futon, kitchen and more.  For families with younger children, a Lower Taylor float trip can be substituted.  These offers are not valid with any other offers or existing reservations, do not include taxes and can be booked by calling (888) 761-3474.  Visit www.3riversresort.com.
Visitor Information & Personalized Vacation Packages
To find out more about Gunnison-Crested Butte's calendar of events and personalized vacation packages, call the Gunnison-Crested Butte Tourism Association's toll-free number (800) 814-8893 or visit www.GunnisonCrestedButte.com.  Find the Tourism Association on Facebook at www.facebook.com/gcbta or follow us on www.twitter.com/gcbta.  The Gunnison-Crested Butte Regional Airport is served year-round by United Airlines with flights from Denver.
photo: Three Rivers Resort