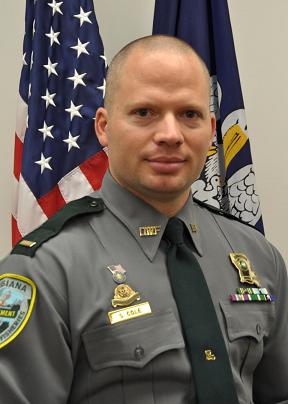 A Louisiana Department of Wildlife and Fisheries (LDWF) Enforcement Division agent was decorated with the 2012 Southern Regional Boating Law Enforcement Officer of the Year Award on May 15.
The National Association of State Boating Law Administrators (NASBLA) acknowledged the work of LDWF Lt. Spencer Cole, 37, of Pineville, with the award for his "outstanding service to recreational boating."  Lt. Cole will have a chance to win the 2012 Butch Potts Memorial Award for the National Boating Law Enforcement Officer of the Year Award at the NASBLA Annual Conference in September.  The other two nominees for the national award are Master Conservation Officer Shawn Brown of Indiana for the Northern Region and Ranger Dawn Larsen of Utah for the Western Region.
"This is a great achievement and one that is very deserving," said Col. Winton Vidrine, head of LDWF Enforcement Division.  "Lt. Cole has spearheaded many boating programs that have helped create standardized training for our agents that will in turn result in more efficient boating safety, maritime security and search and rescue missions."
Lt. Cole headed up LDWF's Boat Operations and Training (BOAT) program, which provides a true national standard for training and ensures maritime agencies can interact together.  He was instrumental in LDWF becoming the first agency in the United States to earn national accreditation for the NASBLA BOAT program in 2011.  Also in 2011, Lt. Cole worked to get LDWF accredited in Louisiana's Peace Officer and Standardized Training (POST) council.  These accreditations made Louisiana the first state to officially adopt the BOAT program as a law enforcement standard for maritime boating safety enforcement and search and rescue.
Through the BOAT program accreditation, Lt. Cole has planned for every LDWF agent to complete the NASBLA Level One Boating Accident Investigation Course in 2012.  Lt. Cole also worked with NASBLA to get two LDWF agents certified as instructors in the Level One Boat Accident Course.
"Receiving the BOAT program accreditations were significant achievements for the department as we work with the U.S. Coast Guard, State Police and local authorities daily in patrolling our local waterways," said LDWF Lt. Col. Jeff Mayne, the state's Boating Law Administrator.  "This training program allows every enforcement agency responsible for securing and providing safe passage on our waterways to train together and be on the same page during natural disasters and maritime security threats."
Lt. Cole is the coordinator of the driving while intoxicated (DWI) enforcement agent training, which has led to increases in the efficiency, quality and quantity of DWI detection training LDWF agents receive annually.
Lt. Cole joined the LDWF Enforcement Division in 1999.  He has been active in recreational boating law enforcement and training throughout his career and became LDWF's Director of Training in 2010.