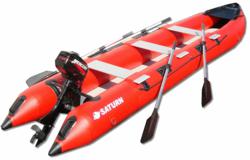 KaBoat creates the best of both worlds from kayaking and boating, and delivers them in a sexy new design. The slim hull modeled after narrow Asian Dragon boats is what lets the KaBoat glide effortlessly over water at speeds faster than traditional boats.
The eco-friendly, narrow hull KaBoat uses less energy to propel itself through the water and therefore it is an ideal vessel to use with electric outboard motors, making it a truly green and ecologically friendly vessel for 21st Century.
The KaBoat is also extremely portable and small when deflated, so it can fit into the trunk of even the smallest car. The KaBoat can be used for sailing, rowing and paddling, as well as with gas or electric outboard motors. Use the kayaking or rowing oars short distances or in shallow waters, then simply attach the outboard motor when you want to travel longer distances.
httpv://youtu.be/bgc_Vq_XeIc
KaBoat is a whole lot of boat for a little bit of money. KaBoats come in 4 sizes: 12', 14', 15' and an extra large 16' monster. They are affordable and available to anyone who wants to get on water on a budget. KaBoat is truly a boat for the masses! Prices start at only $525 and go up to $875 for the 16' extra-long version.
The KaBoat is a new, unique invention that should be owned by every fisherman and water sports enthusiast.