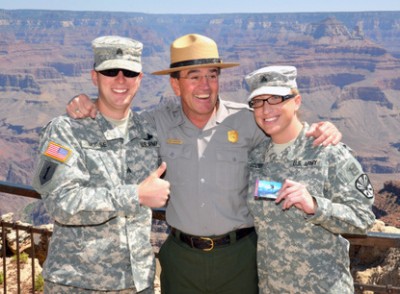 On Armed Forces Day (Saturday, May 19), Grand Canyon National Park Superintendent Dave Uberuaga issued the park's first two American the Beautiful Passes for Military to Sergeants Lozier and Morse of Camp Navajo.
"Grand Canyon National Park is proud to recognize the brave men and women who sacrifice so much to protect our country," said Superintendent Uberuaga.  "The national parks are a part of the heritage of all Americans…a part of the legacy and way of life our servicemen and women protect. With these passes, we hope to increase the opportunities for military personnel to see and share that heritage with their families."
The America the Beautiful Pass for Military is a part of the Joining Forces initiative, launched by the First Lady and Dr. Biden to support our nation's service members and their families. This new pass provides active duty military personnel and their dependents with free access to almost 2,000 national parks, wildlife refuges, national forests and other public lands across the country that ordinarily charge an entrance fee.
For more information on the new military pass or how to acquire one, please visit the National Park Service at http://www.nps.gov/findapark/passes.htm.
To see additional pictures, please visit the park's Flickr page at http://www.flickr.com/photos/grand_canyon_nps/sets/72157629807628718/; and to learn more about visiting Grand Canyon National Park, please visit us on the web at www.nps.gov/grca.