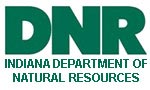 Be among the first to set foot on the newest trail at Chain O'Lakes State Park during an inaugural hike on Memorial Day.
The hike starts at 10 a.m. on Monday, May 28, the official opening of the new trail, and is hosted by Chain O'Lakes State Park Interpretive Naturalist Services. It is free and open to the public.
The new trail is three-quarters of a mile long and rated by the park as rugged. It starts and ends at the Stanley Schoolhouse, a one-room school built in 1915, and circles Kreiger Lake. Kreiger Lake was not accessible to park visitors in the past. The trail passes through an open field and a wetland, climbs a wooded glacial hill around Kreiger Lake, and offers excellent views of Long Lake and of a beaver dam on Kreiger Lake.
The  trail was made possible through several different work details and volunteer efforts.
The Young Hoosier Conservation Corps did the initial trail clearing last summer and fall.
Logan Boyer of Boy Scout Troop 302 in Huntington organized the building of a boardwalk on the trail for his Eagle Scout designation. The boardwalk passes between Kreiger Lake and a large wetland and is a good bird watching spot. Boyer had help from volunteer Gary Green of Syracuse, who donated his portable sawmill and his time for the project. Boyer also led Troop 302 in a work day during which 27 volunteers built the boardwalk.
The standard park entrance fee of $5 per in-state vehicles or $7 per out-of-state vehicles applies during the inaugural hike. For more information, call (260) 636-2654.
Chain O'Lakes State Park is at 2355 E. 75 South, Albion, 46701.