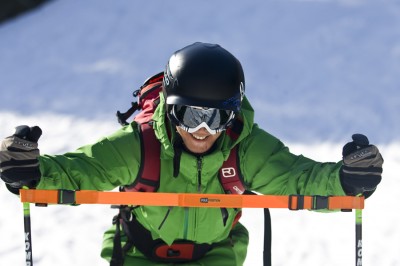 As every professional sports person will tell you, if you don't have the basics right, you won't be winning medals. If you don't first do the groundwork and get yourself into pole position, your chances of success diminish rapidly.
Pole Position is a unique training device used for skiers of all levels to understand the basics of posture and upper body position. For beginners, learning to ski correctly at the start can save years of hard work and lead to a more fulfilling experience. It's a known fact that the better your technique, the more fun you'll have and the less physical effort you require to ski. On the other end of the scale, professional ski racers are finding Pole Position invaluable as a training tool to improve their performance by forcing upper body correction.
To summarise the technical function in simple terms: Pole Position calibrates your upper body so you will understand the basic alpine position and adapt much faster. Keeping the device fully stretched, your upper body will correct itself quickly; simple and effective.
World renowned race coach and four times Olympic trainer Helmut Spiegl from Canada has trained his racers with an optimized Pole Position program during this past season and the result has been exceptional, including FIS-Race Gold Medal and K2 Provincial and CanAm West Gold Medal wins. Helmut's enthusiasm for Pole Position is clear,
"I used the straps from day one of receiving them and achieved great results when positioning the athletes on their skis in a very balanced way and progressing their carving ability and speed maintenance through the turns. Alongside the additional technical work with the straps we've achieved some good race results including a first time ever FIS victory for one of our female racers."
Designed over time with meticulous attention to detail, yet simple and cost effective, Pole Position is rapidly growing into a 'must have' tool for ski instructors, race coaches and recreational skiers who want to improve their technique. It is available now to purchase online or through a network of worldwide distributors.
photo:Ski Press