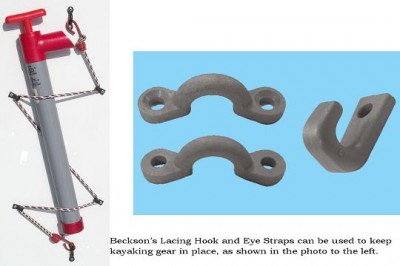 It is crucial for kayakers and canoeists to keep their gear secure, yet accessible.  Beckson Marine's Lacing Hooks and Eye Straps enable users to customize their on-board storage needs.
Kayakers can stow a spare paddle, pump and recovery equipment within easy reach.  When used with netting or shock cords, lacing hardware keeps gear lashed securely to a kayak's forward or rear deck.
Manufactured with high-grade nylon, the lacing hook and eye straps will not corrode or stain surfaces like metal parts can.  The low-profile 0.56″ lacing hook accommodates cord up to 1/4″ thick.
Two Eye Strap models provide installation options.  Model BKT-04-C has countersunk mounting holes for screws or bolts.  Model BKT-04-S has a flat surface for pop rivets.  Each eye strap is 1.9″ L x .675″ H with the spacing between fasteners at 1.4″.
Suitable for a variety of applications, boaters on larger vessels can safely stow boat hooks and long-handled brushes under shock cord.  When paired with netting, they can create handy pockets for storing flashlights, binoculars and other useful items.  On sailboats, the hooks and eyes can handle light rigging and furling duties.  The hooks can also be used alone for hanging swimsuits and similar lightweight articles.
Offered in black, Beckson Marine's Lacing Hooks and Eye Straps have a suggested retail price of $3 per package of five.  OEM inquiries are invited.
Contact Beckson Marine, 165 Holland Ave., Bridgeport, CT  06605.  Email: [email protected];  Visit www.beckson.com.