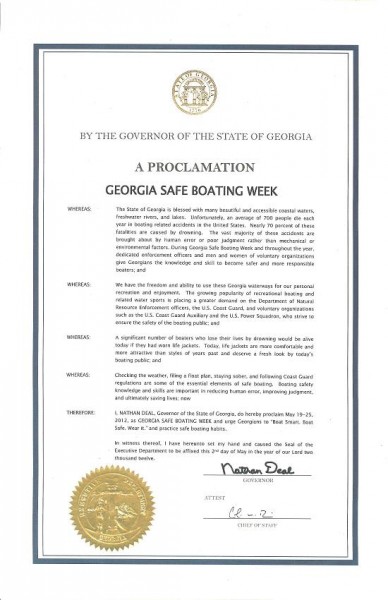 As the weather starts to warm up, families and friends gather together to enjoy the outdoors, travel on vacation and spend time on the water – boating, fishing, sailing, and more. With more time spent on the water – it's important to remember the safety precautions to take during these recreational activities.
In an effort to urge Georgians to "Boat Smart. Boat Safe. Wear It.", Governor Nathan Deal recently signed the "Georgia Safe Boating Week" proclamation to support Georgia Department of Natural Resources (DNR), Wildlife Resources Division efforts.  This proclamation urges those on the water to wear life jackets, file a float plan, stay sober and follow DNR regulations for safe boating.
"The support of the Governor's Office brings an additional level of importance to our efforts to promote the 'Wear It' message," says Capt. Mike England, DNR conservation ranger.  "With a grant received from the National Safe Boating Council, we are going to be able to spread the 'Wear It' message even further.
Receipt of this $3,000 grant has allowed DNR to purchase giveaway items to award to those "caught" wearing their life jackets on the water, promotional items such as brochures, an eye-catching stand-up banner, and large (4'x4') stencils to utilize at boat ramps and parking lots where water-related activities are common.
This year during National Safe Boating Week, May 19-25, and throughout the boating season, the National Safe Boating Council is working with their partner organizations to encourage safe and responsible boating, including the practice of always wearing a life jacket, and being alert and aware while on the water.
U.S. Coast Guard nationwide statistics show that drowning was the reported cause of death in three-fourths of recreational boating fatalities in 2010, and that 88 percent of those who drowned were not wearing life jackets. That's why boating safety advocates continue to push for increased and consistent life jacket wear on the water.
The North American Safe Boating Campaign unites the efforts of a wide variety of boating safety advocates, including NASBLA, the Canadian Safe Boating Council and the many members of the National Safe Boating Council. The campaign is produced under a grant from the Sports Fish Restoration and Boating Trust Fund, administered by the U.S. Coast Guard. Partners hold local events, teach classes, distribute educational materials and perform free Vessel Safety Checks, among other activities.