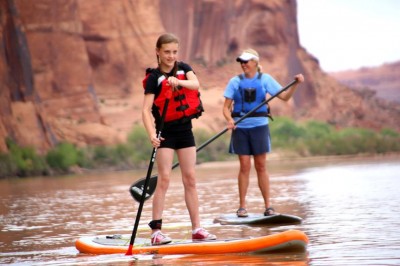 The award-winning Moab Adventure Center http://www.moabadventurecenter.com/ creates diverse opportunities to explore the red rock playground bordering Arches and Canyonlands National Parks.  Now for the first time ever on the Colorado River in Moab, Utah, this innovative company brings the fastest-growing water sport, Stand Up Paddleboarding (SUP) to an imaginative array of guided experiences to explore this region's scenic wonders.
Stand Up Paddleboard tours, accessing a calm section of the Colorado river, include transportation to the put-in and back from the take-out, board rental (long, 10 to 12-feet Surftech paddleboards), adjustable paddle, personal flotation device, instruction on beach and water, guide, water and snacks. The 2 to 2.5-hour excursions depart mornings and at sunset. Special introductory packages available from now into October are $75 ages 16 and up and $55 ages 10 to 15 (regularly $95 and $75 respectively). See: http://moabadventurecenter.com/trips/moab-stand-up-paddle-board-tours/
This sport that began in Hawaii is "easy to master for just about any age, and provides an excellent full-body workout," said Brandon Lake, co-founder of Moab Adventure Center. He added that after just a short orientation, guests can stand up on the boards and paddle away. "With the breathtaking scenery of the Colorado River's canyons, spires and mesas taking center stage, we even see people lying down on their backs, snapping photos and watching the clouds and cliffs drift by. It's very different than paddling on the ocean or a lake where the scenery is more static," added Lake.  (See the Moab stand up paddleboard pictures online).
Lake points out, "If a member of your party does not wish to paddleboard, but still wants to float along, we will be happy to provide an inflatable kayak (duckie) to play in."
According to industry insider, Don Keith, "the sport of Stand Up Paddleboarding is riding a huge wave of popularity across the U.S. and it isn't likely to crest any time soon. People who wouldn't climb on a surfboard to save their lives in the past are flocking to the sport of Stand Up Paddleboarding in droves."
"Virtually anybody can SUP, and the learning curve is very short," said fitness expert Rod Edmonson. "If a person can stand, they can probably learn to Stand Up Paddleboard. Plus, you're getting an excellent full-body workout for the abdomen, back, arms and legs, as you have fun."
SUP burns more calories than many other activities, although to the casual observer it looks calm and relaxing. Experts report that women can burn 500 to 700 calories/hour and men, 800 to 1000 calories/hour while engaged in SUP.
As with other Moab Adventure Center activities, if the Stand Up Paddleboard tour is booked in tandem with a minimum of two other MAC programs there's a 10 percent discount on each activity. See: http://www.moabadventurecenter.com/trips/packages/