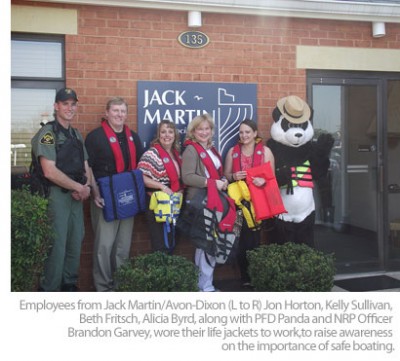 The Maryland Natural Resources Police (NRP)and local boat insurance provider, Jack Martin/Avon-Dixon, encourage the public to join them in wearing a lifejacket to work on Friday, May 18. The State initiative kicks off National Safe Boating Week, May 19 to 23, by raising awareness on the importance of these life saving devices.
"The simple act of wearing a lifejacket could mean the difference between life and death during a boating accident," said NRP Superintendent Colonel George F. Johnson IV. "If we can prevent one fatality on Maryland waterways by reminding the public to wear a lifejacket, we have accomplished our goal."
By encouraging everyone to wear a lifejacket in a non typical setting, such as at work, NRP hopes to heighten public awareness and foster discussion on the importance of boating safety.
Last year alone, Maryland had 24 boating deaths- nearly double the ten year average of 13. Nationwide, approximately 75 to 80 percent of boating deaths are due to drowning, many of which could have been prevented with the use of a life jacket.
"We are pleased to have the opportunity to team up with the Natural Resources Police for this cause," said Jon Horton of Jack Martin/Avon-Dixon. "We feel that this is a great way to remind everyone just how important these devices are. It has also been educational experience for all of us, giving our office a forum to discuss the different makes and models of lifejackets that each of us brought to work."
Jack Martin/Avon-Dixon and NRP will hold free, boating-safety vessel inspections:
Newcomb, 10 a.m. to 2 p.m. on May 20 at the Oak Creek Boat Ramp
Stevensville, 10 a.m. to 2 p.m. on June 2 at the Matapeake Fishing Pier
NRP and the Minor league Baseball team, the Bowie Baysox, will host Stay Safe on the Bay with the Baysox at the team's May 24 home game at 7 p.m. NRP's Boating Safety Unit, Color Guard and mascot, PFD Panda will be on hand to the share their boating safety message. NRP and the Coast Guard will also be at City Dock in Annapolis with displays and demonstrations raising awareness on safe boating in Maryland's waterways on May 26.
For more information on Maryland Boating Safety visit dnr.maryland.gov/boating/safety.