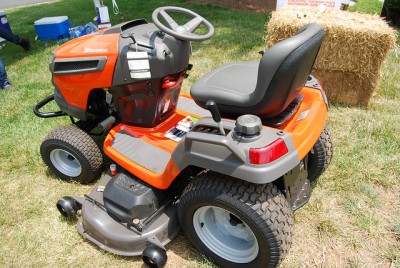 The National Park Service has indefinitely suspended all grass mowing at national parks following the the fatal fall of a maintenance worker cutting the grass at a park in North Carolina. The agency is taking the time to review safety procedures. An official order to its regional offices was sent out Friday, May 11 to its 397 parks in every state, except for Delaware.
The worker, 63-year-old Dana Bruce of Alexander, was mowing the lawn at the Haw Creek Overlook along the Blue Ridge Parkway on May 7. The area between a wooden guardrail and a cliff was only 12- to 15-feet wide. Bruce lost control of the zero-turn riding lawnmower and tumbled more than 140 feet down a boulder-strew embankment. Paramedics pronounced him dead at the scene.
Park Spokesman Jeffrey G. Olson said in an interview with the AP, "We take all accidents seriously and use them as an opportunity to learn so that this kind of accident does not happen again."
Federal Occupational Safety and Health Administration investigators are investigating the incident. It may be months before results of a report conducted by the National Park Service accident investigation team are revealed.
Bruce formerly served in Vietnam as an Army medic. He was working his third summer for the Park Service.
Grass may be unmaintained at parks across the United States for only a few hours and up to a few weeks, depending on the size of the park. "Small parks with little to mow, few pieces of equipment to check, and few personnel to go through safety briefing and training will be back mowing in a matter of hours," Olson wrote to the AP.
The time it takes will depend on the size of the park, the amount of equipment to be checked for safety and number of employees.
The Park Service asks park visitors for their patience in the interim.
Watch the video below from WSPA for more on the story.
Photo: Charles & Hudson (flickr)