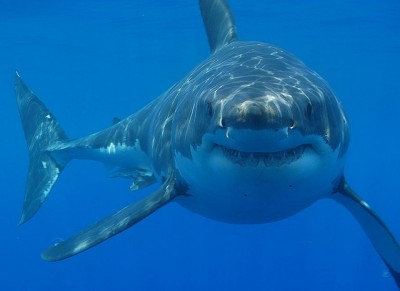 With summer vacation just around the corner, a recent incident involving a great white shark and a kayaker in California has some people worried.
On May 12, Joey Nocchi of Paso Robles was kayak fishing with two of his friends north of Leffingwell Landing, Cambria for several hours. They had observed numerous pinnipeds and a few whales and caught two halibut, but didn't notice the great white shark amongst them until it knocked Nocchi out of his kayak into the water.
He and his friends, James Byon of Paso Robles and Matt Kerschke of Los Osos, were talking as they headed back to shore. Nocchi was reaching for his knife as the shark swam up. "I got hit from underneath and started coming up out of the water," Nocchi said in an interview with the San Luis Obispo Tribune. "My buddies said I came out of the water 4 to 5 feet — it flipped me over the side. The shark rolled the whole kayak over, rolled me out of it, and he went over the top of it. He swam across me — his tail touched me."
Byon and Robles estimated the shark to be between 12 to 14 feet long. After the fact, they told Nocchi, "the shark came all the way out of the water, jaws open, extra eyelids closed like they do when they're making a kill strike."
Nocchi swam back to his kayak as fast as he could. He didn't even think to turn it over, but sheltered himself on top of the overturned kayak. The shark had bitten the kayak. In another interview with the Shark Research Committee, Nocchi said it sounded like somebody hit the kayak with a baseball bat when he first got hit.
Kerschke instructed his friend to get off the kayak, flip it over and get back in while he went to retrieve Nocchi's paddle.
"I did, and I got back to shore as fast as I could, even though the kayak was taking on a bunch of water from the bite. The bite looks to be around 20 inches long, more than 22 inches wide," Nocchi said to San Luis Obispo Tribune.
Now that Nocchi has had a bit of a scare, he said he'll probably stay out of the ocean for a while. "I'll be bass fishing for a while, probably from the shore."
At this time, there are signs posted along Moonstone Beach warning beachgoers of the recent shark attack and potential shark danger.
Photo: Hermanus Backpackers (flickr)