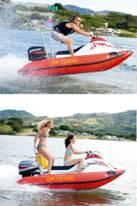 Delivering affordable boating fun, AquaQuad's Classic Sport, CLS, is a dynamic, rigid inflatable watercraft ideal for personal boating pursuits or rental applications.  Easy to maintain, its striking design and numerous applications make this sporty watercraft extremely enjoyable and simple to use.  The CLS is durable and easy to maintain even in the most demanding of conditions, and offers a smooth, comfortable ride at any speed.
Due to the CLS's incredibly efficient power to weight ratio, economical performance and high level of stability, this 10′ boat is ideal for wave running, fishing, trawling, harbor patrols, rescue activities and as a tender on yachts.  It's also suitable for use on sheltered waters, estuaries, dams and rivers.
Providing an exceptional ride without compromising comfort, the CLS offers enhanced safety features and buoyancy with inflatable PVC pontoons.  Comfortably carrying two adults, the CLS can be fitted with a 5-30 hp outboard engine to suit the required application.  It offers ample storage space under the rider's seat and in a front stowage hatch.
Pricing for AquaQuad's CLS starts at $4,833.  The CLS is available for purchase through the company's North American dealer network, which can be located at www.aquaquad.com under the Dealers tab.