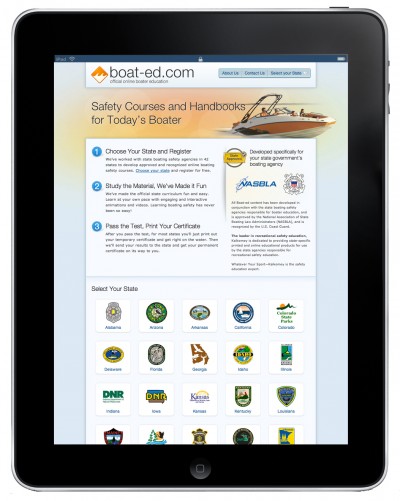 Those seeking a boating license can get certified by taking an online boater safety course on any device at the newly revamped www.boat-ed.com.
"With half of all adults in the U.S. now owning a smartphone, and tablets and e-readers gaining in popularity, it makes sense for boat-ed.com to be mobile ready," said Edward Cossette, user experience manager for Kalkomey, parent company of boat-ed.com. "The pages at boat-ed.com are automatically resized according to the device used, from a smartphone to Internet TV and everything in between, no app required."
The training at boat-ed.com is state-approved and covers the same material that's taught in the classroom. The new mobile-ready site features detailed illustrations, interactive animations and videos.
Another benefit of boat-ed.com being available on any device is students can access the course on the Web even if the only way they have to connect to the Internet is via their smartphone.
"We know people appreciate the convenience of being able to use their down time to take our course as well as benefit from the fast connect we've come to expect from our mobile devices," Cossette said. "In fact, from 2010 to 2011, we saw a 500 percent increase in the number of people visiting boat-ed.com using a mobile device."
Regardless of what device students use to take the boater safety course, they'll learn safe boating skills such as casting off and docking, understanding traffic laws on the water, dealing with emergencies and more.
Students who must receive their boater education certificate or boating license pay a one-time fee, which is due only if they pass the course.  After passing the course at boat-ed.com, students in most states can print out the temporary certificate and immediately begin enjoying safe boating.