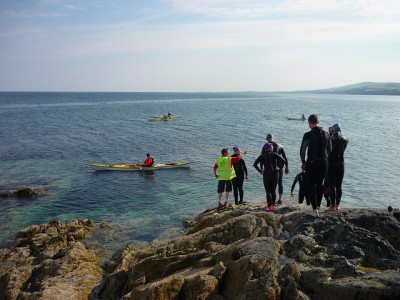 On the evening of Wednesday, May 16, kayaker Joe Leach plans on paddling through Port St. Mary harbour on the 15th day of his estimated 80-day journey. The record to beat is 80 days kayaking around the perimeter of Great Britain, a path that is debated to be between 7,000 and 11,000 miles (depending on how you measure).
Leach will stop into the port, located on the Isle of Man, an island between Great Britain and Ireland. This is a special stop for Leach as it is the island were Leach grew up. It's also a place for him to stop and rest before he takes on a stretch of 60 miles of open sea between the Isle of Man and Belfast, Ireland, his next stop.
Leach, 24, said of the island in an interview with IOM Today, "I started paddling there, I got the hunger for sea from paddling in Port St Mary. It's a playground for me."
Traveling from Anglesey to the Isle of Man, he paddled 45 miles.
The answer to the question of why he's doing this is not a simple one. On his blog, Leach writes, "it's a complicated idea to explain fully, but I guess a big factor is the simplicity. Just sea kayaking for weeks on end, streamlining daily life down to the basics of negotiating myself and my kit from 'a' to 'b'. I find this seriously appealing."
On an ocean kayak, Leach is traveling as light as he can while carrying everything he needs. He's outfitted with camping equipment and de-hydrated expedition packs, but he says he "cannot eat enough" considering all the calories he burns daily.
He doesn't ask for them, but sometimes lives on people's good graces. When he went to ask for water to cook with at someone's door in Abersoch Bay, the family invited him in for supper, a shower and a bed. He's gotten gifts of pastries, pints of beer, and lodging help from other people.
He's had a particularly fond time following the dolphins that swim near the coast of Britain.
"I have had an amazing week … from Lundy Island to Pembrokeshire, there must have been at least 15 dolphins diving under the boat, they were really interacting. They really broke the monotony of the trip. In a yacht you are removed, in a kayak you are part of it. The dolphin moments are more magical when you are on your own, then they go away – you think did that really happen?"
After he graduated Castle Rushen High School, Leach studied PE at Bangor University and then became a kayak instructor in Cornwall. He was inspired to do the trip after he heard a presentation by kayakers Harry Whelan, Phil Clegg and Barry Shaw who previously completed the 80-day trip around the United Kingdom together.
Follow his progress and read his story at www.joeroundbritain.wordpress.com.