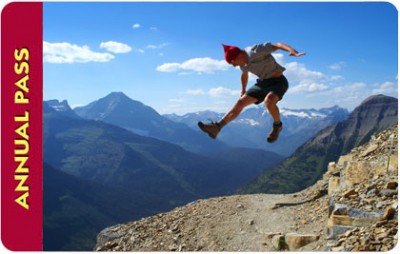 Beginning Saturday, May 19, members of the military and their dependents will be able to receive an annual parks pass free of charge. The pass normally costs $80 and gives access to more than 2,000 national parks, wildlife refuges and other public lands.
Update added 5-18: The law that authorized the pass sunsets, or expires, in December 2014, meaning the pass will no longer be available at that point unless legislatures take action to reinstate it again. The annual pass will be reviewed again in December 2013 to determine its impacts and whether it will continue to be issued.
The Department of the Interior made the announcement last Tuesday, saying it is part of the Joining Forces Initiative to support the nation's service members and families, and also as a way to say thanks to military personnel.
"First Lady Michelle Obama and I started the Joining Forces Initiative last year as a way to honor, recognize and support our veterans and military families," said Dr. Jill Biden. "This effort is a wonderful way to give something back, giving our military men and women and their families a chance to reconnect with their loved ones, experience the beauty of this country, and simply have a little fun."
The release states, "active duty service men and women from the Army, Marines, Navy, Air Force, Coast Guard, and activated National Guard and Reserves can obtain the new military version of the America the Beautiful National Parks and Federal Recreation Lands Annual Pass. It will be accepted at National Park Service, U.S. Fish and Wildlife Service, Bureau of Reclamation, Bureau of Land Management, U.S. Forest Service and U.S. Army Corps sites that charge entrance or standard amenity fees."
A list of participating sites that accept the pass are listed here (pdf).
Active military personnel may get the passes at any national park or wildlife refuge that charges an entrance fee by showing their military ID. Each family member may also obtain their own pass even if the service member is deployed at the time, or is traveling separately.
The pass will not be valid for military veterans or retirees.
The National Park Service estimates the passes given away will result in a $2 million to $6 million revenue loss, but Director of the NPS Jon Jarvis says that is just a drop in the bucket: "We collect about $150 million in fees nationwide, so we don't think that this amount of decrease will be significant to the overall operations of the service."
"Our soldiers, sailors and airmen give so much to this country. The federal family is honored to thank them for their service by offering them an opportunity to visit the natural resources that they defend," said Assistant Secretary of the Army (Civil Works) Jo-Ellen Darcy. "The Corps is proud to be participating in the program by accepting the America the Beautiful Military Pass at Corps recreation facilities."
Find all pass information at the USGS Parks Pass page.
Photo: U.S. Geological Survey