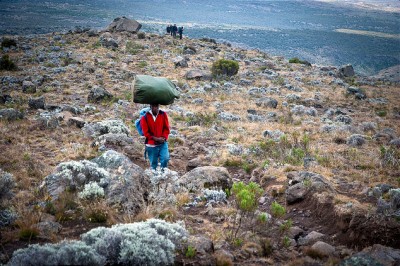 *UPDATE – Spencer West successfully completed his climb. Read Outdoor Hub's coverage here.
Spencer West fully embraces the saying "if you can do it, I can do it too," and whether you are a person with your legs or without, the saying still rings true. West travels around the world giving motivational speeches, but he also spends a great deal of his time volunteering and raising money for good causes.
An international volunteer trip to Kenya in 2008 opened his eyes to his true calling – to motivate and inspire people around the world. This summer, West, who lost his legs at the age of five, will trek up Mount Kilimanjaro with a few friends to raise money for Free the Children, a development program that helps children help other children through education. Read more in the original press release below.
Original press release issued by Free the Children on May 9, 2012:
For many, summer ushers in opportunities for vacations and leisure activities. But for Spencer West, who at the age of five lost his legs, this summer will be marked by a challenging climb up Mt. Kilimanjaro with the goal of raising money for international charity Free The Children.
West, along with two friends, will begin the eight-day trek on June 12, hoping to raise $750,000 for Free The Children and bring sustainable clean water programming to thousands of Kenyans who last year experienced the region's worst drought in 60 years. West is encouraging supporters to help him reach his goal by each donating $10, sponsoring one step in Spencer's almost 20,000 foot journey up the tallest mountain in Africa.
Every year, 20,000 to 35,000 people attempt to climb Mt. Kilimanjaro, and only approximately 50 percent reach its peak. Spencer will undertake the climb in his wheelchair, on his hands and with the help of his friends.
West recently published his memoir Standing Tall: My Journey and serves as a motivational speaker for Me to We, a social enterprise that offers socially conscious and environmentally friendly clothes and accessories as well as life-changing international volunteer trips. As part of his journey, West is calling on individuals globally to join him and 'Redefine Possible' – whether that means tackling a difficult goal, taking on a unique adventure or overcoming a personal obstacle.
"We have the capacity to redefine the limits of our own potential," said West. "That's why, with my new Redefine Possible mission, I'm using my story and challenges to inspire others to overcome obstacles and get involved in whatever they are passionate about. Just like my parents saw the potential in me, I see the potential in all of us."
People can visit www.freethechildren.com/redefinepossible to sponsor a step, follow Spencer's journey, or purchase a Redefine Your Possible T-shirt with a portion of the proceeds supporting his climb.
httpv://youtu.be/7zOVLKsa-T4
Photo: Mike McHolm