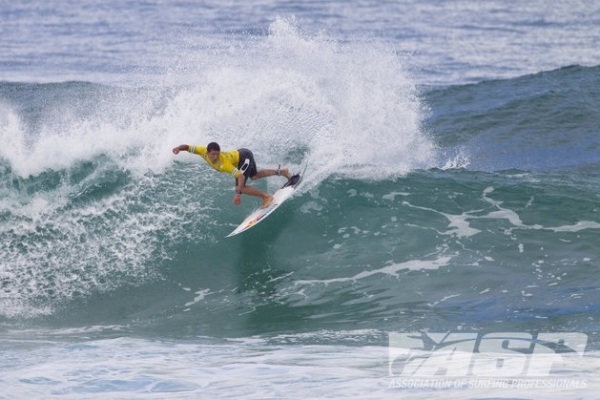 The world's best surfers are descending on Brazil's Rio de Janeiro for the next stop on the 2012 ASP World Championship Tour season, the Billabong Rio Pro, to be held from May 9 – 20, 2012.
Event No. 3 of 10 on the 2012 ASP World Championship Tour, the Billabong Rio Pro will recommence this season's exciting race for the ASP World Title following impressive wins by Taj Burrow (AUS), 33, and Mick Fanning (AUS), 30, at Snapper Rocks and Bells Beach respectively. In addition to the dominant Australians and, of course, reigning 11-time ASP World Champion Kelly Slater (USA), 40, the public's eye will be firmly fixed upon the performance of the seven-man-strong Brazilian contingent.
Adriano de Souza (BRA), 25, current ASP World No. 2 and defending Billabong Rio Pro winner, has been on a rampage over the last 16 months, collecting two ASP WCT victories in 2011 and then a Runner-Up finish at the 2012 opening stop on the Gold Coast.
"Every year I just work on building upon the previous season," De Souza said. "Last year was great. I had two wins and finished the year 5th. The win in Rio was amazing, so much support and so much passion from the people. This year, I have had a pretty good start. I feel healthy, strong and my boards feel very good. I'm looking forward to the coming weeks at home in Brazil."
De Souza has become a sporting icon in South America over the course of his 6-year tenure on the ASP WCT, perennially threatening to ascend the ASP throne while ushering in a new crop of lethal Brazilian competitors.
"I'm very proud to be representing my country on the world stage," De Souza said. "There were those who came before me like Victor (Ribas) and Neco and Flavio (Padaratz) who opened the door for Brazilian success on tour. I'm honored to be able to open it a little further and we have a great group of surfers on tour this year with Heitor (Alves), Miguel (Pupo), Raoni (Monteiro), Jadson (Andre), Alejo (Muniz) and, of course, Gabriel (Medina)."
Gabriel Medina (BRA), 18, 2011 ASP Men's Breakthrough Performer of the Year, is coming off a big win at the ASP Prime Nike Lowers Pro today in Southern California, where the young Brazilian dominated the prestigious field from start to finish. Although competing in his first ASP WCT in Rio this coming week, the prodigious goofy-footer will use his electric abilities and beachbreak experience to his advantage.
"I'm excited for the Rio event and I'll try to do my best," Medina said. "I haven't spent a lot of time there, but it's a beachbreak and I always surf beachbreaks so I think the setup will be kind of similar and I'll be able to adapt. It will be fun to surf in front of the home crowd, they're so passionate and it always motivates me."
Breaking onto the elite ASP World Championship Tour at the midyear rotation in 2011, Medina would go onto win an incredible two of his first four events (Quiksilver Pro France, Rip Curl Pro Search San Francisco), firmly establishing himself as a major force on the world stage. 2012 has yet to yield similar success, with Medina collecting a 25th and a 13th in the opening two events and currently sitting No. 25 on the ASP WCT ratings.
"I haven't had the best results this season so far," Medina said. "I had a bad heat on the Gold Coast and was out of rhythm with the wave there. At Bells, I let C.J. (Hobgood) get a wave at the end and he surfed very well. I came to Lowers with a goal and I have achieved that. It feels really good and I think the confidence will help in Brazil next week."
The Billabong Rio Pro will run from May 9 – 20, 2012 and will be webcast LIVE via www.billabongpro.com
Running in conjunction with the men's event will be the fifth stop on the 2012 ASP Women's World Championship Tour season, the Billabong Rio Pro, featuring the world's best female surfers.
For more information, log onto www.aspworldtour.com