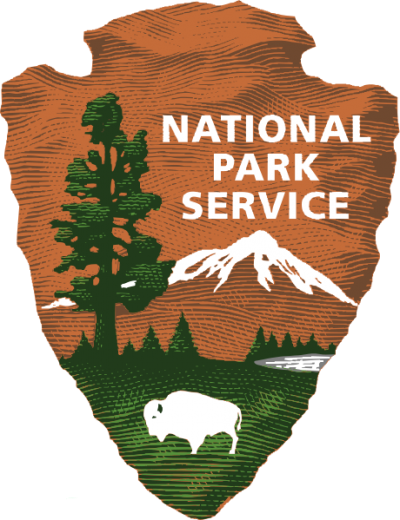 The lengthening days, milder overnight temperatures, return of migrant birds, and arrival of summer employees are all signs that the seasonal facilities and services that enhance the park experience for Denali National Park and Preserve visitors are opening soon!
The Denali Bookstore, operated by park partner Alaska Geographic, opens Monday, May 7 to kick off the season.  Many other park entrance area facilities will open on Tuesday, May 15, including the Morino Grill, Wilderness Access Center, Backcountry Information Center, and the Denali Visitor Center. The visitor center features stunning exhibits on Denali's natural history and cultural heritage, screenings of the award winning, high definition feature film, "Heartbeats of Denali", and friendly rangers who can answer questions and help visitors plan how to spend their time in the park. It is open daily from 8:00 am – 6:00 pm.
The season's first interpretive offering, the 2:00 pm sled dog demonstration, commences on May 15. Free buses to the park kennels depart from the Denali Visitor Center shuttle stop at 1:20 p.m.  The 10:00 am sled dog demonstrations begin on Sunday, May 20.
Denali Natural History Tours start on Monday, May 14, and the shoulder season Tundra Wilderness Tour (TWT) to the Teklanika Rest Area will be available May 15 – 19. The regular TWT begins Sunday, May 20.
The park road is open for travel by private vehicles to the Teklanika River Rest Area (Mile 30) through Saturday, May 19. Beginning Sunday, May 20, the park's shuttle bus system starts providing visitor access beyond the Savage River (Mile 15) as far west as the Toklat River (Mile 53). Buses will start running to the Eielson Visitor Center (Mile 66) on Friday, June 1. The entire 92-mile length of the park road will open for buses on Friday, June 8, conditions permitting.
The first fifteen miles of the park road will remain open for travel by private vehicles throughout the summer season.  This year a project to replace over 100 aging culverts is taking place on the paved portion of the road in preparation for future repaving. Drivers should expect to encounter minor traffic delays (5-10 minutes) between 5:00 am – 11:00 pm.
Work will also take place at night. Beginning Monday, May 7 through Friday, May 18, the road may be closed between Mile 3.4 (just west of park headquarters) and Mile 15 from 11:00 pm to 4:59 am, Monday – Thursday. From May 18 –September 13 the road may be closed seven nights of the week between 11:00 pm and 12:00 midnight and from 2:00 am – 3:00 am.
Camping is free at the Riley Creek Campground until fee collection begins on May 15. Water and sewer services may be available by that date, depending on weather conditions. The Savage River Campground will open on Saturday, May 19 and the Sanctuary River, Teklanika River, and Igloo Creek Campgrounds all open on Sunday, May 20.  The Wonder Lake Campground opens on Friday, June 8.
Denali National Park and Preserve collects an entrance fee year-round. The entrance fee of $10 per person (for visitors age 16 and older) is good for seven days. You can pay the entrance fee at the Murie Science and Learning Center (MSLC) through May 14, and the Denali Visitor Center (DVC) beginning May 15. The majority of the money collected remains in the park to be used for projects to improve visitor services and facilities. Interagency Federal Recreation Passes such as the Annual, Senior, and Access Pass, and the Denali Annual Pass are also valid for entry into the park and can be purchased at the MSLC or DVC.
Additional park information is available on the web at www.nps.gov/dena or by calling 907-683-9532 from 9:00 am to 4:00 pm daily. Stay connected with "DenaliNPS" on Twitter, Facebook, YouTube, Flickr, and iTunes – links to these social media sites are available at www.nps.gov/dena/connect.htm.