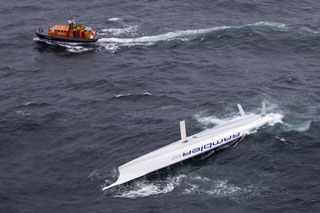 Tragedy has struck the sport of sail boat racing once again. One of the boats participating in the Newport-to-Ensenada yacht race, the ocean cruiser Aegean, has been struck by a much larger vessel in the Pacific Ocean, off the coast of Baja Mexico. Three crew members of the Aegean were found dead and a search was underway for the fourth member as of April 29.
This incident, along with the heartbreaking disaster weeks ago in Northern California and the Rambler 100 disaster in the Fastnet Race last summer, has made all boaters aware of the safety precautions that need to be taken at all times while out on the water, whether racing or cruising.
Not only boaters are paying attention, however. These crises have sparked national attention and encouraged a review of the current safety regulations required by sailing races, both domestic and international. The safety requirements and regulations laid out by the governing body of sailing in the United States, US Sailing, as well as race committees around the world are coming under intense scrutiny and these organizations are responding in a variety of ways.
The race committees, who run the races for the sailors and yacht clubs involved, are scrutinizing every aspect of their safety regulations for the races they run in order to try and prevent any more future disasters. This prevention work by the organization is important, and another very effective way to prevent a catastrophe is by educating the individual sailors involved. One great way to in the increase the knowledge of safety precautions to take on the water is to attend the Safety at Sea Seminar given by US Sailing. The seminar is a day long course that covers every aspect of water safety that any type of boater could ever hope to know. This course helps to educate boaters about potential disasters on the water and help them prepare for those disasters. This is an important part of the education of every boater; with all the fun to be had on the water, safety should always be the first priority.
Photo courtesy sail-world.com