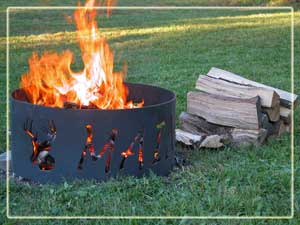 Fred Patterson simply wanted a quality, charming campfire ring for his family to enjoy when out in the woods or in their backyard. Being that Patterson has been working at a local fabrication plant for 25 years, he had no problem cutting out a few high-quality custom made rings of his own.
He crafted a campfire ring with graphic cut-outs of a whitetail deer, a moose and the letters "M-A-I-N-E" when he wanted his family to enjoy the serenity offered by the campfire. Patterson built his own because he thought most campfire rings became too haggard after a year of use, getting rusty and cracked. At their campsite in Southwest Harbor's Smuggler's Den, Patterson and his wife brought their own campfire ring, which drew the attention of neighboring campers.
By the end of the trip, six campers asked to purchase a custom-built campfire ring, which was the beginning of TPC-n-Smore, LLC in 2003. TPC stands for "The Perfect Campfire."
In an interview with Bangor Daily News, Fred's wife, Monica Patterson said, "We tend to be people who, when opportunity knocks, we take it." Now, nine years into the business, the Pattersons sell about 140 campfire rings at about $200 per ring on average.
Their customer base is mostly located in Maine as people tend to find out about their product by word of mouth, although the Pattersons do have a webpage with information available where people from beyond Maine have found The Perfect Campfire.
Many people are excited to personalize their campfire ring with graphics of their favorite animals, letter outlines of meaningful words and more. The Pattersons fulfill custom orders for campgrounds with a special pricing option as well. Nine years into it, the Pattersons are going strong and only getting busier.
Photos courtesy of the Pattersons