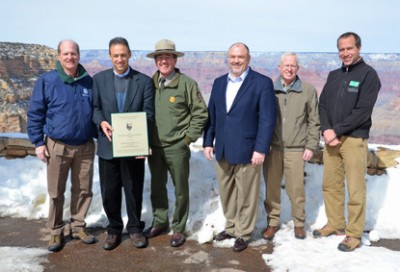 Grand Canyon National Park concessioner Xanterra South Rim, L.L.C. (Xanterra) was recently awarded the National Park Service (NPS) Director's Environmental Achievement Award in the Building Our Future category.
The Building Our Future award recognizes outstanding achievements in promoting sustainability through design, operations and innovation.  It particularly recognizes groups that involve employees and local community members in their sustainability efforts.  Xanterra received the award for their ongoing commitment to limiting water consumption, conserving energy and properly disposing of waste by recycling building materials and electronics.
Due to the large amount of electricity required to pump water from Roaring Springs (located below the North Rim) across the canyon and up to the South Rim, reducing water consumption decreases the use of electricity.
Xanterra's recent renovations to the Bright Angel Lodge included the installation of waterless urinals, dual flush toilets and ultra-low flow faucets that will save approximately 4.4 million gallons of water and 68,250 kWh of electricity per year.  Combined with water conservation measures that had already resulted in a nearly 11 percent property-wide decrease in consumption,  this amounts to more than 10.5 million gallons of water conserved and a decrease of 164,000 kWh of electricity needed to transport water to Bright Angel Lodge each year.
Thought was also given to sustainable practices during the remodel. Nearly 18,000 pounds of construction waste was either recycled or repurposed as opposed to being disposed of in landfills during the project. The transport of waste from the park to the landfill (almost 85 miles away) is done at significant cost. Grand Canyon National Park has sponsored a robust recycling program for more than ten years and Xanterra's recycling and waste minimization programs have successfully diverted 36 percent of their waste stream with a goal of diverting 50 percent by 2015. Additionally, more than 5,000 pounds of electronics waste has been recycled in an environmentally and ethically safe manner as part of an e-waste program that invites the participation of local communities.
Grand Canyon National Park Superintendent Dave Uberuaga says the park couldn't be more pleased that Xanterra received the Director's award.  "In the arid Southwest where water is a rare and precious commodity, Xanterra's water conservation efforts are both environmentally and economically smart; and many of the fixtures and practices they have implemented are things we can all try in our own homes.  So, they set a great example for all of us," he explained.
In addition to their water conservation and construction waste disposal practices, Xanterra is also reducing fuel usage and associated green house gas emissions as a part of their commitment to Grand Canyon's Climate Friendly Park goals.  Their purchase of six compressed natural gas buses, the adoption of an anti-idling policy and a goal of achieving a fuel economy standard of 35mpg have already decreased the company's gasoline and diesel consumption by more than 16 percent.
To learn more about Xanterra's environmental initiatives in Grand Canyon National Park, please visit their web site at http://www.grandcanyonlodges.com/enviroment-1640.html; and to learn more about visiting Grand Canyon National Park, please visit the park's web site at www.nps.gov/grca.