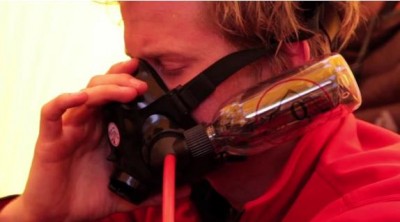 On April 28th, North Face Global athlete and National Geographic photographer Cory Richards had to be evacuated from Mount Everest because of a respiratory issue that doctors have been unable to diagnose.
Richards complained of severely labored breathing which forced him to breathe through an emergency oxygen mask at times.
Richards was unable to make the descent back down Everest under his own power and had to be carried by his team on special rescue stretcher. He was then taken to a hospital in Kathmandu.
Although the doctors have been unable to give him a definitive diagnosis, Richards has said that doctors do not think the respiratory stress was related to altitude.
While Richards has said he will not make the climb up Everest, his team plans to continue their trek to the world's highest peak.
Aaron Carpenter, The North Face vice president of marketing had this to say on neverstopexploring.com: "While we know what a disappointment this turn of events is for Cory, our main focus is for him to recuperate. We're relieved to know he is in good hands. Cory is an incredibly accomplished climber and photographer, and we look forward to seeing him back on the mountain soon."
Below is a video dispatch from Richards published just five days before he had to be evacuated. Richards' blog and photos are available on the National Geographic website here.
httpv://youtu.be/-9fk14GzjlY
photo: screenshot from National Geographic's "The Rescue"