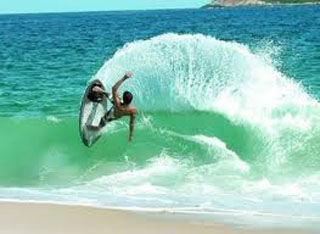 Get out and get on your skimboard, have a friend film you performing your best trick, and upload your clip to East Coast Skimboards Facebook page.
East Coast Skimboards and Mokey Business have collaborated to recognize and reward the best progressive skimboardeers of the world with cash and prizes.
The best trick of the month will be awarded $100. The best trick at the end of the three month contest will receive an additional $150 and a prize pack featuring a limited edition George Bryan Pro Model Monkey Business Skimboard.
The judges will focus on the difficulty of the trick, not the quality of the wave or terrain. The rider must get on their board with the standard run, drop and slide technique.
Riders can enter as often as they like. They will be asked to show proof of the date the trick when selected into the voting round.
The contest is open to all riders of all location and all terrain.
The finalist for each month will be selected by viewers' comments, with the winner being voted on by public vote at month's end.
The 2012 contest started in April and runs through June.
Photo courtesy of internpete.com