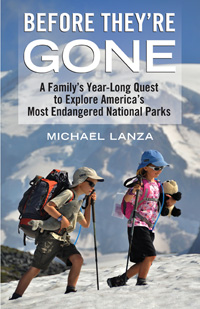 Environmental change and other factors are threatening many of America's national parks and landmarks. The vulnerability facing the USA's storied landmarks prompted writer Michael Lanza to write about the impending perils.
In his new book, Before They're Gone: A Family's Year Long Quest to Explore America's Most Endangered National Parks, Lanza details the hazards mulling.
Through his review of myriad research, in conducting interviews with dozens of scientists and seeing the changes firsthand, Lanza is convinced that climate change could be detrimental to the places he and millions of outdoor enthusiasts love in the very near future.
Lanza's new book includes scientific data that chronicles changes that have already occurred such as warmer winters, drier summers, melting ice, rising sea levels and diseased plant life— all stark signs, scientists note, pointing to climate change.
Lanza is also the Northwest editor of Backpacker Magazine. His new book is published by Beacon Publishers.
Check out a video about the book below.
httpv://youtu.be/3FouSY1wJn4