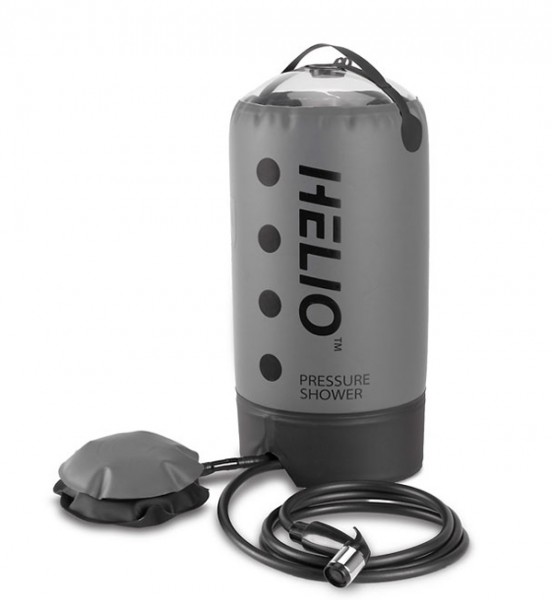 Nemo is a company that likes their outdoors vast and remote, yet warm and stink-free at the same time. Of course, the further one gets from civilization, the further away that hot shower becomes. So the company set out to change that. In June 2012, the Helio Pressure Shower will be available for campers and backpackers who spend days deep in the back country and for those who just like to keep clean.
The freestanding Helio Pressure Shower comes packed in a ventilated carrying case, weighs less than a full Nalgene bottle (packed weight of 25 ounces) and provides between five and seven minutes of steady water pressure. A seven foot hose with spray nozzle is attached and a foot pump regulates water pressure.
The company set out to make a product that is portable, something that can be carried by foot alongside a bulky pack. There are no additional propane tanks, electric water pumps nor bulky powered systems to carry. The Nemoid Foot Pump makes for an even-pressured stream of water. For it to work, the user stomps on the pump a few times throughout the shower. Water heat is dependent on the sun.
Nemo lists various uses on their website, such as the obvious camp shower, but also as a tool for rinsing dishes to washing a dog. When packed, the shower is 5.5 inches by 8.5 inches. When inflated and ready for use, it stands at 17 inches by 8.5 inches. For $100, outdoorsmen/women will be able to purchase one in June to take along in time for some clean summer camping.
Photos courtesy of Nemo