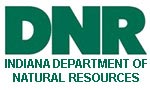 Celebrate the arrival of spring at Indiana's state parks and reservoirs during Welcome Back Weekend, May 4-6, which features special outdoor recreational events and hands-on programs.
"We roll out the red carpet to old friends and people who've never visited or haven't visited recently," said Ginger Murphy, assistant director for stewardship for the DNR Division of State Parks & Reservoirs. "We show off what's new and remind our veteran guests what's so cool about the old standards."
Welcome Back Weekend events include:
Morel Mushroom Festival at Brown County State Park
Geocaching events at Harmonie State Park
Goat milking, leather working and more at the Hoosier Homestead Gathering at Salamonie Lake
A dog walk at Fort Harrison State Park
Spring hikes at Shades, Turkey Run, Prophetstown, Indiana Dunes and Chain O'Lakes state parks and Raccoon State Recreation Area
Folk Arts Festival at Patoka Lake
Evening campfires at Mounds and Whitewater state parks
A cornhole tournament at Summit Lake State Park
Fitness walks at Hardy Lake and Mounds and Tippecanoe River state parks
Canoe paddles at Whitewater Memorial State Park and Monroe Lake
For a complete list and details, see interpretiveservices.IN.gov.
Even veteran visitors will notice something new or updated at most properties. You'll find a newly resurfaced beach parking lot at Indiana Dunes State Park, additional mountain bike trails at Harmonie and Brown County state parks, and trail improvements at O'Bannon State Park and other properties. More updates and improvements are listed at stateparks.IN.gov.
"Our properties are inexpensive places to relax, play, exercise and enjoy the outdoors," said Dan Bortner, State Parks & Reservoirs director."
All fees will be in effect during Welcome Back Weekend. Gate fees for most properties are $5 per in-state vehicle and $7 per out-of-state vehicle.
An Annual Entrance Pass, which can be purchased at each property at the gate, costs $36 for a state resident and $18 for state residents ages 65 and older. Special SPR Go! Value Packages that include Annual Entrance Passes and other offerings can be purchased online at innsgifts.com. An out-of-state pass costs $46.